Paglia e Fieno Recipe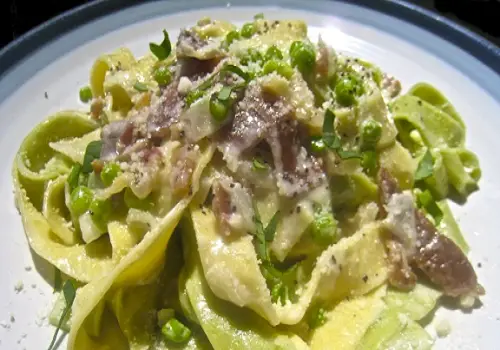 Ingredients
½ lb (225g) yellow fettuccine (linguine, tagliatelle, or pappardelle may be substituted)

½ lb (225g) green-colored pasta of the same type as the yellow pasta

3 tbsp (45ml) butter

1 tbsp (15ml) olive oil

1 small onion, chopped fine

3 cloves garlic, minced

1 cup (236ml) heavy cream

1 cup (140g) fresh peas

4 to 6 oz (110 to 170g) prosciutto

½ cup (60g) Pecorino Romano cheese, grated — more for serving

salt and pepper, to taste

fresh parsley, chopped — for garnish
Directions
Bring a large pot of water to the boil for cooking the fettuccine. Time it so that the pasta is just shy of al dente about the time that the peas are cooked to your liking. Reserve 1 cup of the pasta water.

Heat oil and butter in a large, deep frying pan over med-high heat. Add onion and sauté until translucent, about 5 to 8 minutes. Add garlic and continue to cook for another minute.

Add heavy cream and simmer a few minutes until slightly reduced.

Add the prosciutto and peas, stirring till well-combined.  If sauce becomes too thick, add a little pasta water to thin it.

When pasta is just shy of al dente and peas are sufficiently cooked, taste to check seasoning and add the cooked pasta to the frying pan. Stir well. If necessary, add some pasta water to thin the sauce.

Remove from heat, add grated cheese, mix thoroughly, and move to serving platter.

Serve immediately, garnished with grated cheese, parsley, and cracked pepper.
https://fromthebartolinikitchens.com