Linguine with Tomato Clam Sauce
Linguine with Tomato Clam Sauce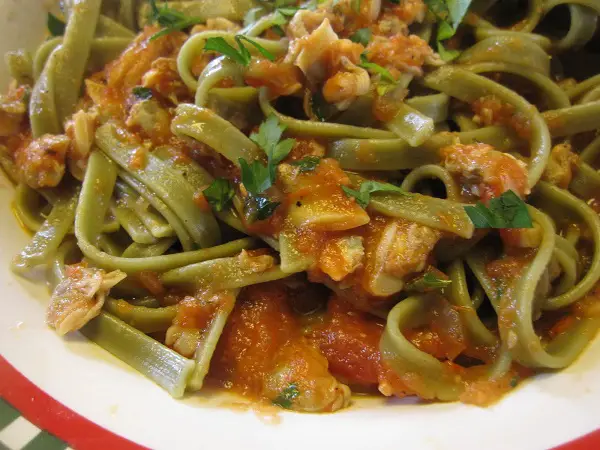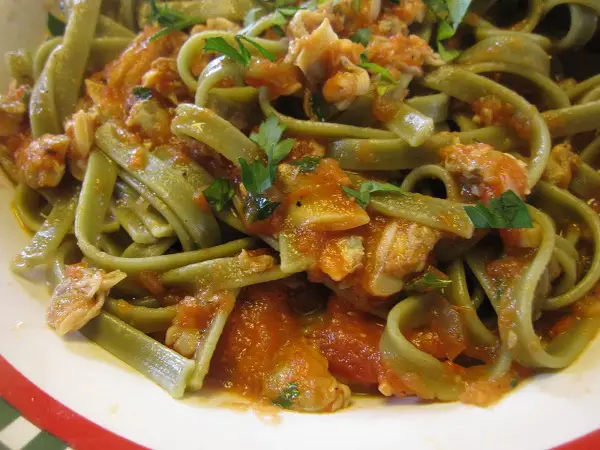 Ingredients:
Serves 4
2 tbsp olive oil

1 onion, finely chopped

2-3 cloves garlic, peeled and finely chopped

1 can (28oz/794 g) diced tomatoes and their juice

2 cans (6.5oz/184g) clams in natural juice, drained & juice reserved

¾ cup dry white wine

2 tbsp tomato paste

pinch or so of sugar (optional, but we like how it mellows the acid of the tomatoes)

Salt & freshly ground pepper to taste

1lb/450g dried linguine

4 tbsp Italian/flat leaf parsley, chopped

Pinch or two of red chili pepper flakes if you like a little heat.
Directions:
Heat the oil in a large saucepan over medium heat. Add the onion and cook, stirring frequently for 5 minutes. Add the garlic and stir until fragrant (about 1 minute). Add the tomatoes with their juice, clam juice SAVE THE CLAMS FOR LATER, wine and tomato paste. Season with salt and pepper and bring to a boil. Reduce heat to low, partially cover the pot and simmer for 15 minutes. If you have family members who are not fond of tomatoes, use an immersion blender in the pot. Somehow, most people will eat red sauce, just not everyone likes the texture of tomatoes…go figure.

Meanwhile, bring a large pot of salted water to a boil over high heat. Stir in the linguine and cook according to package or al dente. Drain the pasta.

When the pasta is almost done, add the clams and chopped parsley to the tomato sauce and continue to simmer for 1-2 minutes – just until heated through. Taste for seasonings – this is when you might add the chili pepper flakes and sugar.

The book says to add the linguine to the sauce and toss well. I like to put some sauce in a large pasta serving bowl, add the pasta and then toss, adding more sauce as I like.
Sprinkle with extra parsley and serve.