Fish Parcels with Shallots & Tomatoes
Fish Parcels with Shallots & Tomatoes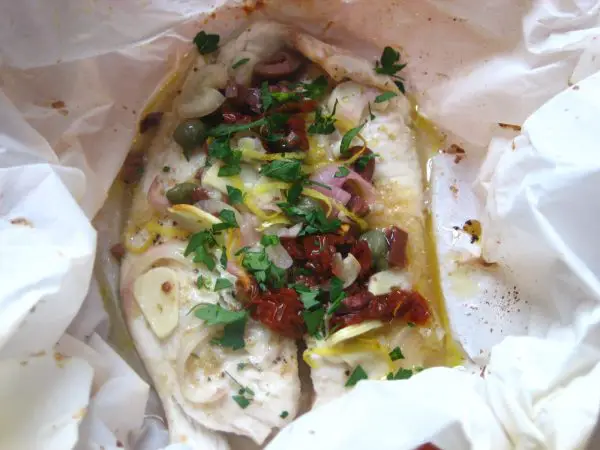 Ingredients:
Serves 4
4 (5-6oz/150g) white fish fillets (snapper, red mullet or bream, I used tilapia)

Olive oil

Salt & freshly ground pepper

1 tsp ground coriander

4 black olives, pitted and chopped (I used Kalamata)

1 tbsp capers, drained

2 shallots, peeled and finely chopped (¼ cup)

1 clove garlic, peeled & sliced

4 semi-dried tomatoes, chopped (I used sun dried in oil)

Finely grated zest of 1 lemon (in long strands)

1 tbsp lemon juice

1 tbsp finely chopped flat leaf parsley

String for tying up parcels
Directions:
Rinse fish fillets and pat dry with paper towels. Cut four pieces of parchment paper, each 12 inches long and spread out on the counter. (or use double thickness aluminum foil and oil the part that will come in contact with the fish). Put one fillet in the center of each sheet of paper. Season with salt & pepper and sprinkle with ground coriander.

In a bowl, combine olives, capers, shallots, garlic and tomatoes and divide among fillets. Divide evenly over the fillets. Top each with lemon zest, juice, parsley and a drizzle of oil.

Tie parcels firmly with string (or twist fold around so everything is sealed well). If you're cooking on the barbecue, nestle each parcel in a piece of foil for protection Cook over low heat on the barbecue hot plate of a hooded barbecue with the lid down for 15-20 minutes or until fish is nearly cooked through.
Alternative cooking method: in a preheated 375°F/190°C oven for 15 minutes. Be careful not to overcook as the fish will continue to cook as it stands Serve immediately.