Veal & Mushroom Stew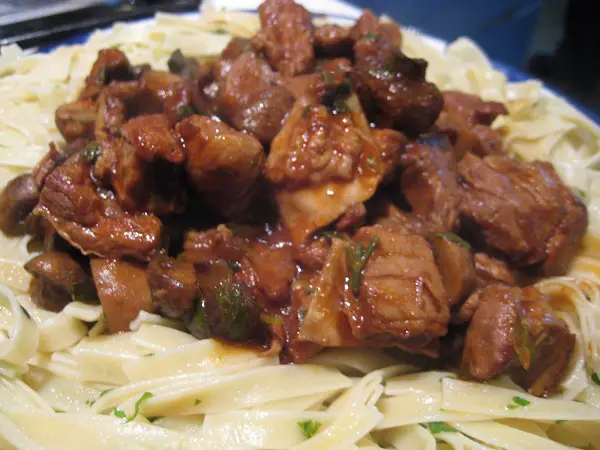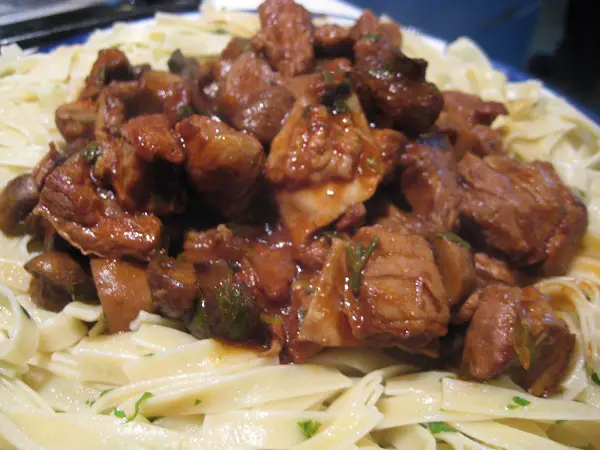 Ingredients:
Serves: 4-6
Olive oil (enough to just coat the bottom of the pan for searing and a little more for mushrooms)

3 lb/ 1.36kg veal stewing meat cut into 2" chunks

1 lb/680g mushrooms (I used cremini & oyster, shitake or fresh porcini would work too)

1 medium onion, coarsely chopped

1-2 cloves garlic, sliced

Salt & pepper to taste

¼ cup sherry

1 cup water

1-2 tbsp Bovril (or beef bouillon)

1 small tin tomato paste ( 5½oz/156ml)

1 tbsp fresh rosemary, chopped (or 1 tsp dried)

1 tbsp fresh thyme leaves ( or 1 tsp dried)

¼-½ cup Italian/flat leaf parsley, chopped

1 small bag frozen baby peas
Directions:
Preheat oven to 325°F/170°C.

Heat oil in a Dutch oven over medium high heat. Sear veal on all sides in batches. Do not crowd the pan or the meat will just steam. Once you've seared each batch, use a slotted spoon to remove the meat and set aside. Continue this process until all the meat is seared.

Once the meat is all seared, remove most of the oil from the Dutch oven. Sauté the mushrooms until golden and the onion, sauté for another 2-3 minutes, adding oil as needed. Add the garlic and sherry and deglaze the pan (scrape the bottom to incorporate the stuck on bits) and stir for a few more minutes to bring out the flavors. Return veal to the pot. Add the tomato paste, toss and add the water and Bovril/beef bouillon. Add the rosemary, thyme, parsley, salt & pepper and mix well. Cover and cook over low heat for 5-10 minutes before placing in the oven.

Roast, covered for about 45 minutes and taste for seasoning. Add the peas 5 minutes or so before serving.