Cranberry Couscous Stuffed Chicken Breasts
Cranberry Couscous Stuffed Chicken Breasts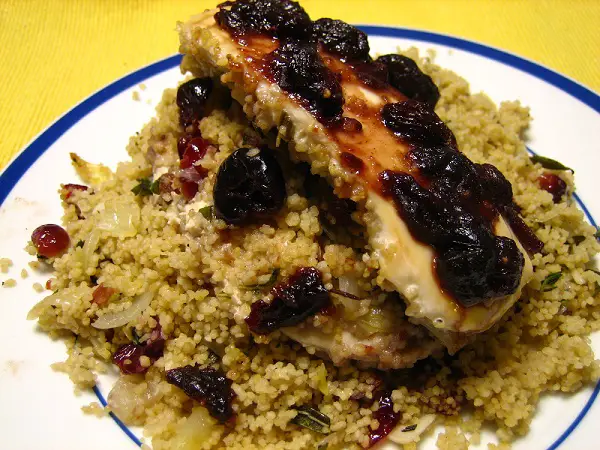 Ingredients:
Serves 4
4 boneless chicken breasts, butterflied (cut horizontally almost, but not completely through)

Cranberry chutney – enough to cover the top of the chicken breasts

½ cup chicken broth

Dash (2-3 tbsp) Pomegranate & blueberry juice

2 tbsp cranberry chutney
Couscous:
1 tbsp olive oil

1 small onion, coarsely chopped

1 large clove garlic, finely chopped

¼ cup mixed fresh herbs, chopped (I used rosemary, oregano & thyme today)

1/2 cup dried cranberries

1 cup couscous

1 ½ cups chicken broth (I added a little pomegranate juice here as well)

Salt and pepper
Directions:
Couscous:
In a medium sized non-stick skillet, over medium heat, sauté the onions and garlic until the onions are translucent. If the garlic starts to turn brown, lower the heat. Otherwise it will taste bitter.

Add the liquid, cranberries and the fresh herbs and bring it to a boil. Add the couscous, stir and remove from the heat. Cover and let rest for 5 minutes. Fluff with a fork, recover and let it sit for another 5 minutes.
Chicken:
Preheat the oven to 350°F/170°C

Lay the butterflied chicken breasts, shiny side (outside) down on a flat surface and place 1 large heaping spoonful of couscous in the center of each breast. Fold in half and place in an oven proof baking dish just large enough to hold all the pieces without touching each other. Spoon some chutney on top of the chicken and pour the liquid around the chicken breasts. There should only be enough broth to keep the chicken from drying out, You don't want the liquid to be more than a thin layer or else the couscous filling will become couscous soup!

Roast for 30 minutes or until the breast is white when cut through. If the breasts are large you might need a few more minutes.