Linguini Fini with Sardines & Pickled Cherry Peppers
Linguini Fini with Sardines & Pickled Cherry Peppers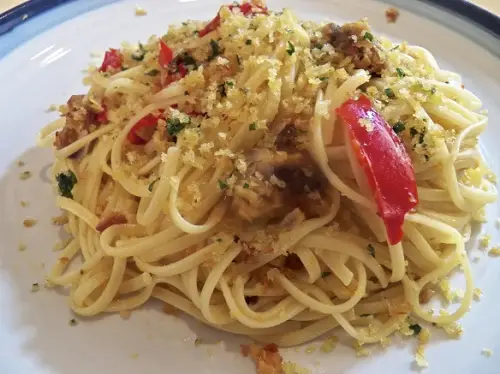 Linguine Fini with Sardines & Pickled Cherry Peppers Recipe 
Ingredients
1 lb linguine fini (cappellini, spaghetti, linguine, or trenette may be used)

1/2 cup + 2 tbsp extra virgin olive oil, divided

1 pkg. {3.75 oz (105 g)} of skinless & boneless sardines, drained & roughly chopped

5 cloves of garlic, diced or grated – divided

4 pickled cherry peppers, cored, seeded, and roughly chopped

1/2 cup Panko bread crumbs

3 tbsp fresh parsley, chopped

salt & pepper

reserved pasta water
Directions
Make the bread crumb topping:

In a small mixing bowl, combine 1 diced/grated garlic clove, bread crumbs, and 2 tbsp of olive oil. Season lightly with salt & pepper. Mix thoroughly.

In a small frying pan over med-high heat, lightly toast the bread crumb mixture. Do not allow to get too dark or it will ruin the dish. Remove from heat and set aside.

Bring a large pot of heavily salted water to boil. Add the pasta and stir.

In a large frying pan over med heat, add the remaining olive oil. Once hot, add remaining garlic and sauté for 1 minute.

Add the pickled peppers to the pan and continue sautéing for another minute before adding the sardines. Continue sautéing until the pasta has cooked 2 minutes less than the package's cooking instructions indicate for al dente. If you've timed everything correctly, you should sauté the sardines for no more than 5 minutes before the pasta is ready.

Drain the pasta, reserving 1 cup of the pasta water.

Add pasta to the pan containing the sardines and peppers. Gently toss to evenly coat the pasta. If too dry, add enough pasta water to create a sauce. Continue to sauté until the pasta is al dente, 1 to 2 minutes more.

Remove from heat, add 2/3 of the bread crumb mixture, and toss.

Place on a serving platter and garnish with remaining 1/3 of the bread crumb mixture.

Serve immediately.