Trenette with Soft Shell Crabs and Morel Mushrooms Recipe
Trenette with Soft Shell Crabs and Morel Mushrooms Recipe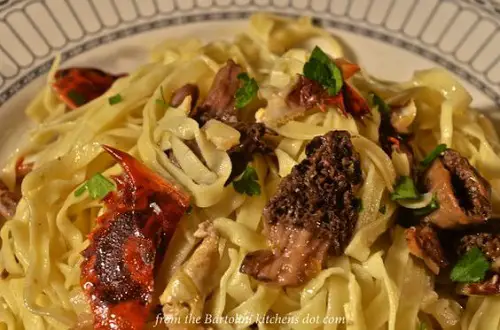 Ingredients
1 lb (450 g) trenette – linguine may be substituted

3 or 4 soft shell crabs, cleaned

2 tbsp buter

2 tbs olive oil

3 cloves garlic, smashed

red pepper flakes, to taste

2 to 4 oz (56 to 112 g) morel mushrooms (see Notes)

salt and pepper to taste

reserved pasta water

fresh parsley, for garnish
Directions
Heat oil and butter in a large frypan with a lid over medium heat. Add the garlic and sauté until browned but not burnt. Remove and discard the garlic, leaving the now-flavored oil in the pan.

Add the red pepper flakes and crabs to the pan, lower the heat to med-low, and cover the pan.

Continue to gently sauté the crabs for about 15 minutes, turning them over mid-way through. The crabs will turn crimson when cooked.

Meanwhile, bring to the boil a large pot of salted water. Add the trenette and cook until it is about 2 minutes shy of being al dente. (If using packaged pasta, refer to the package instructions.) Time the components so that the crabs and pasta are ready at the same time. Now is the time to reserve a cup of the pasta water.

Turn the heat to med-high before placing the morels into the pan with the crabs.

Drain the trenette and dump the pasta into the pan. Stir/toss to combine. If too dry, add some of the reserved pasta water.

Continue to sauté until the pasta is cooked to your satisfaction.

Remove to a serving platter and garnish with freshly chopped parsley before bringing to the table.
https://fromthebartolinikitchens.com