Loaded Baked Potato Gnocchi
Loaded Baked Potato Gnocchi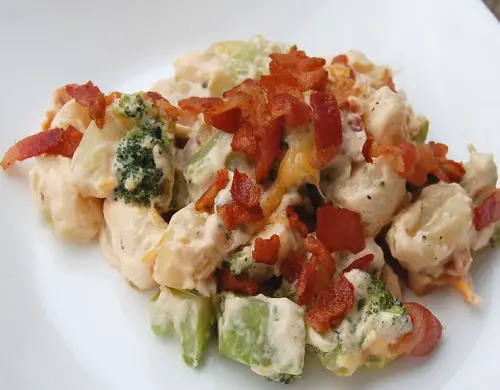 Ingredients
10 strips of bacon, diced

2 tablespoons butter

4 green onions, thinly sliced

8 ounces cream cheese at room temperature

1 1/2 cups sour cream

2 cups shredded cheddar cheese, divided

2 cups chopped broccoli, steamed

Salt and pepper to taste
Directions
1. Preheat the oven to 350 degrees. Spray a casserole dish with cooking spray. Cook gnocchi in boiling salted water until they float. Wait a minute and drain the gnocchi using a slotted spoon.
2. While the gnocchi is cooking, cook the bacon over medium heat in a large skillet until crispy. Remove to paper towels to drain and discard most of the bacon drippings.
3. Over medium heat, add the butter to the same skillet and let it melt. Add the green onions and saute until they're just softened, a couple of minutes. Stir in cream cheese and sour cream until the cream cheese is fully incorporated and the mixture is bubbling. Stir in 1 cup of the cheddar cheese and let it melt. If the mixture is too thick, you can add a little bit of milk. Once the sauce has reached the desired consistency, taste for seasonsing and add half of the bacon, the broccoli, and the gnocchi and stir to combine.
4. Pour the mixture into the prepared baking dish and top with remaining cup of cheese. Bake for 20 minutes, until cheese is melted and the casserole is bubbling. Sprinkle each serving with the reserved bacon.