Sausage-Stuffed Baked Apples
Sausage-Stuffed Baked Apples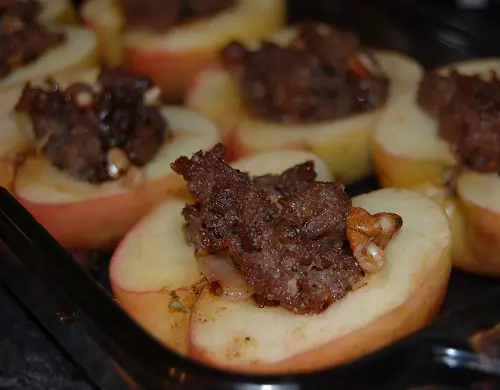 Ingredients
1 tablespoon butter

1/2 pound bulk maple pork sausage

1 small onion, chopped

Salt and pepper to taste

1 tablespoon brown sugar

1/2 teaspoon cinnamon

1/4 cup coarsely chopped pecans

3 baking apples, halved and cored
Directions
1. Preheat oven to 350 degrees.
2. Melt butter in a skillet over medium heat. Add sausage and onion, season with salt and pepper, and cook until sausage is browned and onion is softened. Remove from heat and stir in brown sugar, cinnamon, and pecans.
3. Fill each apple half with some of the sausage mixture. Place apples, filling side up, in a baking dish; cover with aluminum foil. Bake for 40 minutes or until apples are tender.