Lobster Risotto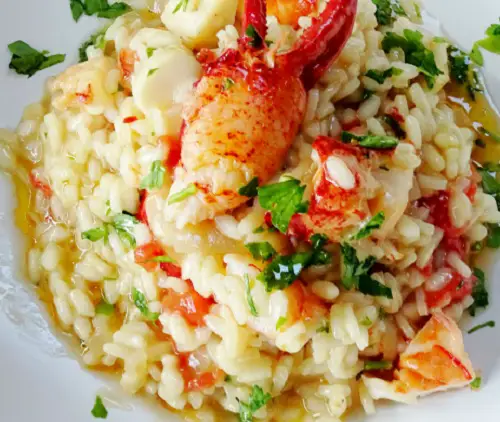 This lobster risotto dish is cooked in two pans. The risotto is cooked using seafood stock and is simply fabulous.
This video by Fabio Viviani demonstrates the cooking process. Not only will you learn to cook this great dish but Fabio speaks in both English and Italian in the video. If you are learning Italian, this video is a fun way to practice!
Ingredients
Risotto:
Extra virgin olive oil
2 tablespoons butter
1 small white onion diced
1 cup Arborio rice
1 quart shellfish stock
Half a lemon, juiced
2 tablespoons chopped parsley
Salt and pepper
Lobster:
2 tablespoons butter
Two 4oz lobster tails, split lengthwise, shells removed and cut into 1" pieces
1 cup shellfish stock
Salt and pepper
Make sure you watch the video until the end when Fabio tastes the lobster risotto!