Maple Glazed Salmon with Roasted Brown Sugar Sweet Potatoes
Maple Glazed Salmon with Roasted Brown Sugar Sweet Potatoes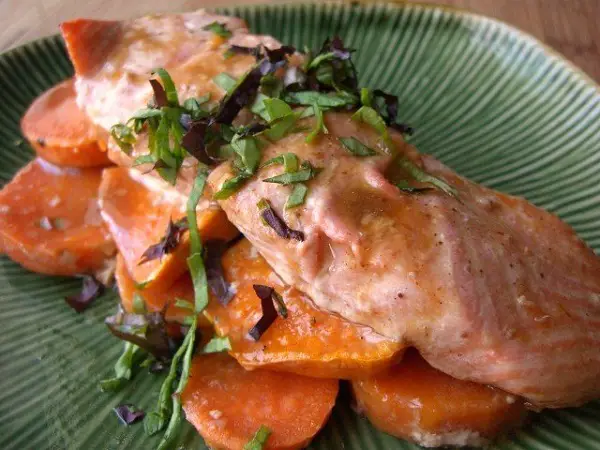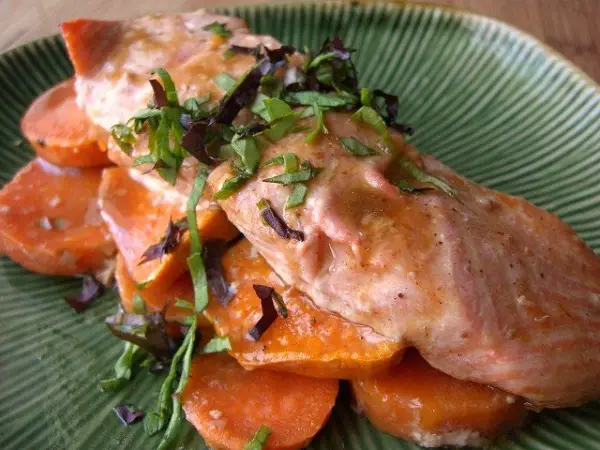 Ingredients
Serves 6
1 tablespoon butter

About 2 pounds of sweet potatoes, peeled and sliced in 1/2″ slices

Olive oil

Salt

Pepper

3/4 cup maple syrup

2 tablespoons apple juice

1 tablespoon Dijon mustard

1 1/2 tablespoons hoisin sauce

2 tablespoons soy sauce

Juice of 1/4 of a lemon

3 tablespoons brown sugar

6 salmon fillets, about 6 ounces each
Directions
Preheat oven to 375 degrees.

Butter a large baking dish and add sweet potatoes. Drizzle with olive oil and season with salt and pepper. Bake in oven for 30 minutes. After the 30 minutes, sprinkle the potatoes with brown sugar and continue baking for another 10 minutes.

Meanwhile, combine maple syrup, apple juice, mustard, hoisin sauce, soy sauce, and lemon juice. Place salmon in a resealable bag and add half of the maple syrup mixture. Set other half of mixture aside. Allow salmon to marinate while the sweet potatoes bake.

After the sweet potatoes bake for 40 minutes, remove from oven. Increase oven temperature to 400 degrees. Remove salmon from marinade and place on top of sweet potatoes. Discard marinade. Pour the other half of the maple syrup mixture on top of salmon and return to oven. Bake for 12 – 14 minutes or until the potatoes are soft and the salmon is just cooked through.

Remove from oven and serve.