Roasted Pork Tenderloin with Balsamic Fresh Fig Sauce
Roasted Pork Tenderloin with Balsamic Fresh Fig Sauce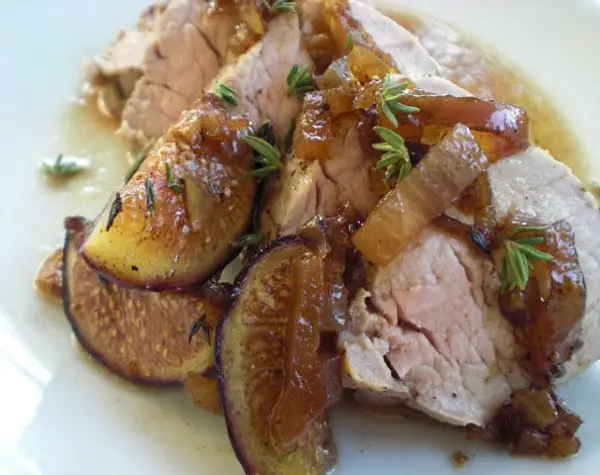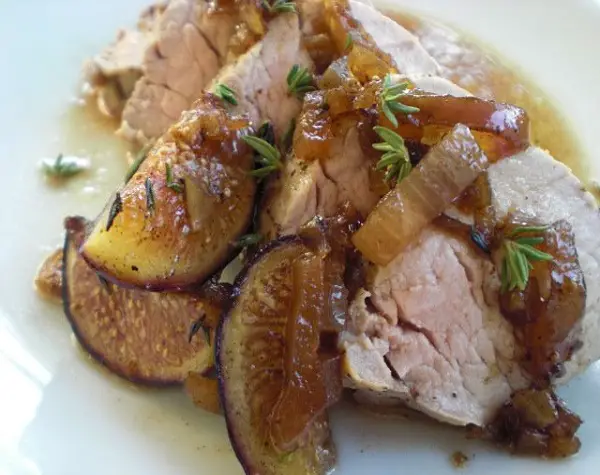 Ingredients
Serves 5
2 pork tenderloins

Olive oil

Salt

Pepper

Dried sage

2 tablespoons butter, divided

3/4 cup diced red onion

6 tablespoons balsamic vinegar

2 cups chicken stock

1 tablespoon fresh thyme

About 16 fresh figs, cut in wedges
Directions
Preheat oven to 400 degrees.

Rub tenderloins with olive oil and sprinkle with salt, pepper, and sage. Heat a large, ovenproof saute pan to medium high and drizzle with olive oil. Brown tenderloins on all sides.

 Roast tenderloins in the oven for about 15 – 20 minutes or until the internal temperature reaches 135 degrees.

Remove tenderloins from oven and tent with foil.

In the same pan that the tenderloins were browned, add 1 tablespoon butter and the red onion. Saute until softened and lightly browned, about 6 – 8 minutes.

 Add the balsamic vinegar and scrap up the bits off the bottom of the pan. Cook for about 30 seconds.

Add the chicken stock and bring to a boil. Cook until the sauce reduces by half, about 5 – 7 minutes.

Stir in the remaining tablespoon of butter, thyme and about 3/4 of the figs and heat the sauce just through.

To serve, slice the tenderloin into medallions and top with the sauce and a few of the reserved figs.