Margherita Style Chicken Breast
Margherita Style Chicken Breast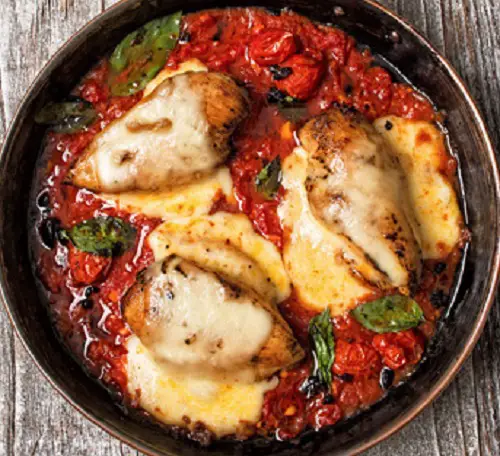 Ingredients
– 4 medium chicken breasts

– 2 pints grape tomatoes, rinsed and any stems removed

– 4 ounces mozzarella cheese cut into 4 slices

– 4 – 6 large basil leaves

– 1/3 cup extra virgin olive oil, divided

– Salt and pepper
Directions
Preheat your oven to 425 degrees.

Place a skillet or sauté pan on the stove over medium heat. To the pan add half of the olive oil along with 1/4 cup of water.

As the oil and water heats in the pan, lightly salt and pepper the chicken breasts, and then place them into the pan. Cook the chicken breasts for 10 minutes on one side or until the edges around the breasts become opaque. After 10 minutes, flip the breasts, lower the heat to low, cover the pan and cook the breasts another 10 minutes.

While the chicken breasts are cooking, place an oven safe sauté pan on the stove over medium-high heat. To that pan, add the rest of the olive oil, 1/3 cup of water and the grape tomatoes. Cover the pan and cook the tomatoes 5 – 7 minutes or until their skins begin to burst. Lower the heat to medium, cover the pan and continue cooking the tomatoes another 5 minutes or until they begin breaking down to form a sauce, stirring intermittently. Add 1/4 cup water to the tomatoes if they begin to get too dry or the sauce becomes too thick as it cooks.

When the chicken breasts have finished cooking, remove them from the heat and set aside.

Cook the tomatoes until you have a sauce at a consistency you like. Add salt and pepper to your taste.

When the sauce has finished cooking, remove the pan from the heat, and add the chicken breasts to the sauce. Turn the breasts in the sauce to coat them on all sides. Add the basil leaves to the pan, and place one slice of the mozzarella cheese over each chicken breast.

Place the pan in the center rack of the oven and bake for 5 – 10 minutes or until the cheese has melted. To add more color to the final dish, switch your oven to the broil setting, and broil on high for 2 – 3 minutes.

Remove the pan from the oven, and allow the dish to cool for 5 minutes before serving.

Serve directly from the pan or plate the dish on a serving platter.