Marinated Eggplant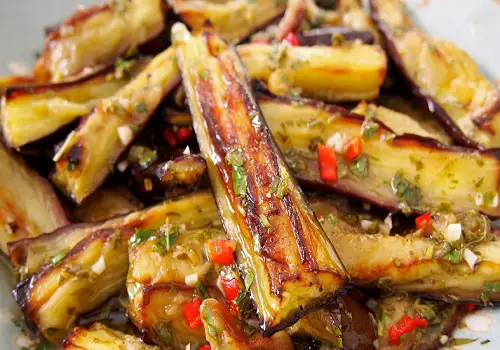 Ingredients
Serves 4-6 as an appetizer
1 kilo small eggplant

Salt
For the marinade:
250ml (1 cup) olive oil

3-4 Tbs white wine vinegar, or more to taste

2-3 cloves of garlic, finely minced

A pinch of oregano

A pinch of red pepper flakes, or more to taste

Salt, to taste
For topping:
Minced parsley

More red pepper flakes
Directions
Trim off the stems of the eggplant and, depending on their size, cut them into quarters or halves (or thick slices, see Notes).

Bring a big pot of well-salted water to the boil and drop in the eggplant pieces. Boil until tender but not mushy.

Meanwhile, mix the marinade ingredients together in a mixing bowl. Taste for seasoning. If you think it needs it, add more salt, red pepper and/or vinegar to get the taste you like. The mixture should be very savory but not overwhelming.

When the eggplant is tender, remove to a colander and let drain and cool off.

When the eggplant is cool enough to handle, gently squeezing out any excess liquid with a paper towel, lay the pieces out in a baking dish or other shallow receptacle.

Spoon the marinade over the eggplant. It should not quite cover the pieces. Marinate for at least 2-3 hours.

Serve the eggplant, if you like sprinkled with minced parsley and additional red pepper flakes for color and piquancy. Perhaps a light sprinkling of salt, too, if it needs it.