Stuffed Figs with Sausage and Gorgonzola
Stuffed Figs with Sausage and Gorgonzola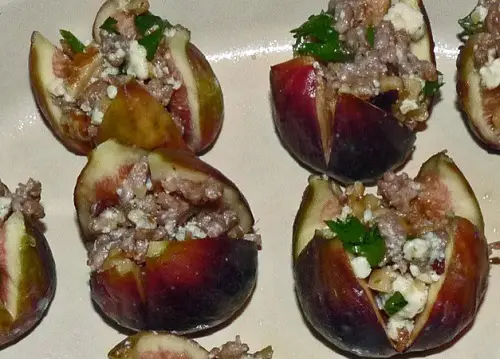 Ingredients
Makes: approx. 15 stuffed figs
About 15 Plump Fresh Figs
For stuffing:
½ lb. Italian Sausage out of the casings – a spicier sausage is best ( You can add a little Red Pepper Flakes, if you'd like to jazz it up.)

1 Tbsp. Olive Oil

¼ C. chopped purple onion

½ C. Gorgonzola Cheese or Blue Cheese – crumbled (don't use pre-crumbled)

½ C. Walnuts – coarsely chopped

1/4 Tsp. Cinnamon

2 Tbsp. Fresh parsley

1 beaten egg (optional)
After stuffing:
Generous drizzle of honey – about 3 tablespoons (If you can get local honey – all the better!)
Instructions
Brown sausage in the oil. Remove to a bowl with slotted spoon.

Cook onion in same pan til tender & add to sausage.

Add Gorgonzola,Walnuts, Cinnamon, & Parsley.

Mix the ingredients together for stuffing.

The egg is optional and only serves to hold the stuffing together better.

Slice figs down the middle from the stem area but not all the way through.

Then turn and do this again – making quarters all still attached & not severing the bottom. Isn't this gorgeous?

Fill the figs with stuffing.

Put in oiled baking dish.

Drizzle generously with honey. I like Wildflower Honey on my figs. It brings a lovely flowery flavor to them.

Bake at 350 degrees for about 12-15 minutes or until heated through and cheese is slightly melted.