MELENZANE ALLA PARMIGIANA
MELENZANE ALLA PARMIGIANA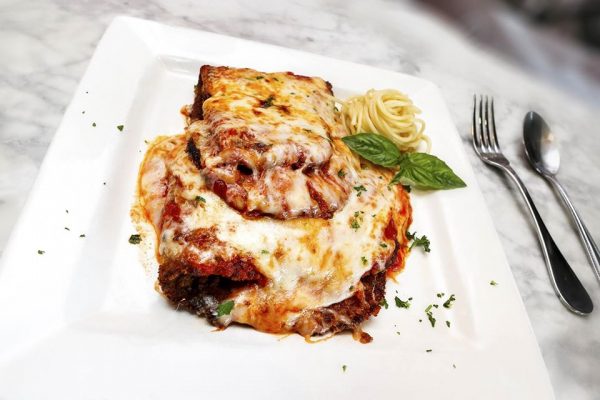 Ingredients
1 medium Italian eggplant, sliced crosswise into half an inch thickness
1/2 cup all-purpose flour
1 1/2 cups breadcrumbs
3 cups of marinara sauce
3 eggs, beaten
1/2 cup Parmesan cheese, grated
1 1/2 cup shredded mozzarella cheese
3/4 teaspoon salt
1/8 teaspoon ground black pepper
3 cups olive oil (vegetable oil or canola oil)
Cooking Procedure
1. Combine salt, pepper, Parmesan cheese, oregano, and breadcrumbs in a bowl. Mix well and set aside.
2. Lightly season the eggplant with salt. Let it stay for 15 minutes. Juices from the eggplant will be released during this process. Pat the eggplants dry using paper towels.
3. Heat the cooking oil in a deep pot.
4. Dredge the eggplant slices in flour and then dip in the beaten egg .Roll the eggplants right away on the breadcrumbs and Parmesan cheese mixture. Make sure that every side is properly coated.
5. Deep fry the eggplant until the color turns golden brown (about 2 to 3 minutes). Remove from the pot and place in a plate lined with paper towel to absorb the oil.
6. Preheat oven to 375 degrees Fahrenheit.
7. Grease a baking pan with olive oil. Spread 1 cup of Marinara sauce in the bottom. Arrange a batch of fried eggplants as the primary layer. Sprinkle with some Mozzarella cheese.
8. Top with Marinara sauce and then arrange the second layer on top of the sauce. Sprinkle cheese and spread some marinara sauce on top. Do this until all the eggplants are consumed. Finally top with marinara sauce and cheese and then bake for 30 minutes.
9. Remove from the oven and Serve.