Mini Frittatas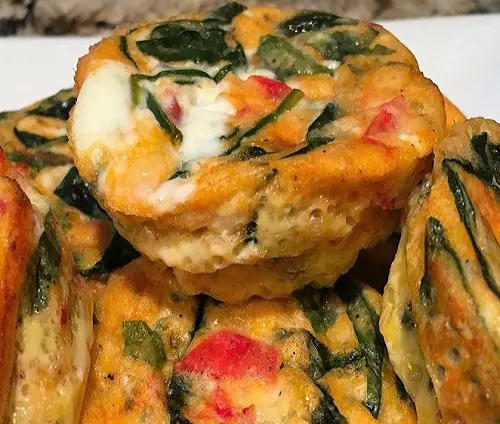 INGREDIENTS
Makes: about 9
Prep: 15 minutes
Bake: about 15-20 minutes
3 Whole large eggs

7 Large egg whites

2 Tbsp. Chopped Fresh Basil

1/3 Cup Grated Parmigiano Reggiano Cheese

Salt and pepper to taste – for egg mixture

2 Tbsp. Olive Oil

1 Clove Fresh Garlic – chopped finely

2 Cups Fresh Baby Spinach

10 Campari Tomatoes – chopped

Salt and pepper to taste – for vegetable mixture
INSTRUCTIONS
Place the eggs and egg whites in a large bowl and whisk together along with the basil, grated cheese, and salt and pepper. Set aside.

In a fry pan, add 2 Tbsp. Olive Oil, garlic, baby spinach, Campari Tomatoes, salt and pepper. Cook about 5 minutes, stirring occasionally.

Add this vegetable mixture to the egg mixture in the bowl.

Spray a muffin tin with Pam.

Ladle the frittata mixture into each muffin cup filling each about 3/4 full.

Bake at 350 degres for 15-20 minutes until firm. They will puff up but will go down some once they cool.

Now just turn the pan over and pop out the frittatas!

Either serve or refrigerate for later use or to grab on the go like I do!