Mussels Fra Diavola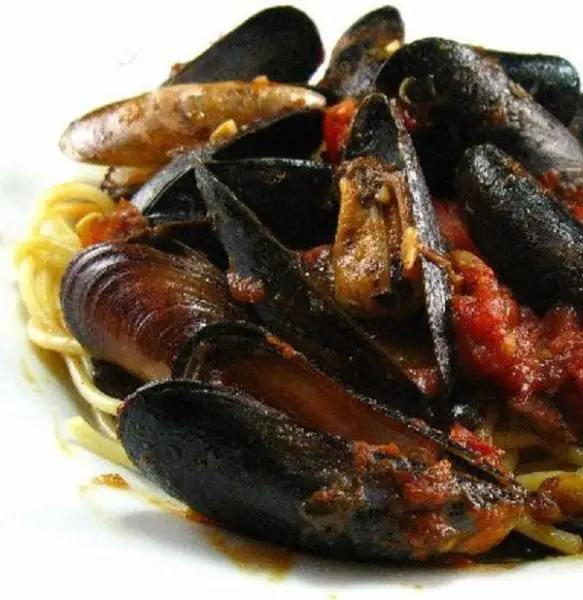 Ingredients
Yield: 6 servings
12 garlic cloves, minced (1/3 cup)

3/4 to 1-1/2 teaspoons dried hot red pepper flakes

1/2 cup olive oil

1 (28-oz) can whole tomatoes in purée

2 tablespoons tomato paste

2 teaspoons dried oregano, crumbled

1 teaspoon dried basil, crumbled

1/4 cup drained bottled capers

1/2 cup Kalamata or other brine-cured black olives, pitted and chopped

1/3 cup dry red wine

1 lb dried linguine

3 lb mussels cleaned
Directions:
1) Cook garlic and red pepper flakes in oil in a deep 12-inch heavy skillet over moderate heat, stirring, until fragrant but not browned, about 2 minutes. Add tomatoes with purée, tomato paste, herbs, capers, olives, and wine and simmer, uncovered, stirring occasionally and breaking up tomatoes, until sauce is thick, about 15 minutes.
2) Cook linguine in a 6- to 8-quart pot of boiling salted water until al dente, then drain in a colander.
3) While pasta cooks, increase heat under sauce to moderately high and add mussels, then cook, covered, until mussels just open wide, checking frequently after 3 minutes and transferring to a bowl. (Discard any mussels that remain unopened after 6 minutes.)
4) Serve linguine with mussels and sauce.