New Year's: Lentils For Luck and Pork For Plenty
New Year's: Lentils For Luck and Pork For Plenty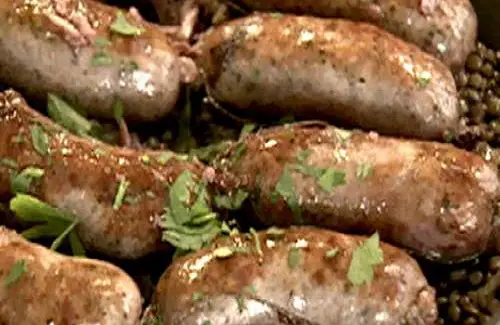 Ingredients
For 6 people
• 1 pound (about 2-1/4 cups) lentils
• 1 bay leaf
• 1 small bunch fresh sage, tied into a bundle with kitchen twine
• 4-5 tablespoons extra-virgin olive oil plus your best olive oil for the table
• 1 small celery heart with leaves, or 1 stalk, minced
• 1 medium carrot, peeled and minced
• 1 small onion, minced
• 4 large cloves garlic, bruised
• salt, preferably sea salt
• 3 tablespoons tomato paste
• freshly ground black pepper
• 12  "sweet" Italian-style pork sausages
Directions
1. Rinse lentils . Cover them with cold water and soak them for a few minutes. Transfer them to a colander and wash them in cold running water. Drain. Put the lentils and bay leaf and sage bundle in a pot and add cold water to cover by 3 inches. Bring to a boil. Reduce the heat to a simmer and cook until they are not quite tender, about 15 minutes. Skim off any foam that forms at the top. Because cooking times can vary, you'll want to taste them at this point. If they are still quite hard, cook further for 5-minute increments and keep checking until they are al dente. Turn off the heat and stir in 3 teaspoons of salt; let stand for 5 minutes. Drain the lentils, reserving the cooking water. Fish out the bay and sage leaves.
 2. In an ample skillet over medium-low heat, warm the olive oil. Stir in the garlic. When it is lightly colored, add the chopped celery, carrot, and onion, and sautè, stirring occasionally, until the vegetables are nicely softened, but do not allow them to brown, 8-10 minutes. Stir in the drained lentils. Add the tomato paste and enough lentil water to barely cover. Cover the pan, reduce the heat to low; simmer, stirring occasionally, until the lentils have absorbed the liquid and they are completely tender but not mushy, 5-10 minutes. Add more of the reserved cooking water as necessary to keep the lentils from drying out, but avoid adding more than will be absorbed. The consistency should be loose but not watery. Turn off the heat and let stand for about 10 minutes. Season with pepper.
3. To cook the sausages, preheat an oven to 375 degrees F. Select an ample, seasoned cast-iron skillet or other heavy-bottomed oven-proof pan. Warm a tablespoon or two of the olive oil over medium heat. You will want it to shimmer but not smoke. Slip in the sausages. If they are in a coil, cook the coil whole without cutting it or puncturing it. Brown on both sides just to color them nicely but don't cook them through, about 6 minutes on each side, regulating the heat as necessary to get them to sear without hardening and resisting the temptation to prick them at any point. Transfer the pan to the middle rack of the oven and roast until just cooked through but not dried out, 5-10 minutes depending on the girth of the sausages. Remove from heat.
4. Plate the lentils in a wide, shallow platter. Finish with a thread of your best olive oil. Arrange the sausages on top. Serve it forth.