Non Dimenticar – Nat King Cole – 1960 – Rare Italian TV Show
Non Dimenticar – Nat King Cole – 1960 –
Rare Italian TV Show
*
"Non Dimenticar" ("Do Not Forget") is a popular song with music by P. Gino Redi, with original Italian lyrics by Michele Galdieri, and English lyrics by Shelley Dobbins. The song was written for the 1951 film Anna (directed by Alberto Lattuada) and interpreted (acted) by great actress Silvana Mangano (1930–1989); sung by Flo Sandon's (Mammola Sandon); and published in 1953.

The best-known recording of the song was made by Nat King Cole (reaching #45 on the Billboard magazine charts in 1958), but other recordings have been made, including one by Jerry Vale in 1955. Vale's version peaked at #75 on the pop charts. Joni James also recorded an English / Italian version for her 1958 album Ti Voglio bene …. Dean Martin recorded the song in 1962 on his Dino: Italian Love Songs album. Trío los Panchos made its version in 1964. Italian-American tenor Sergio Franchi covered this song in his 1965 RCA Victor album, Live at the Coconut Grove. Deana Martin recorded "Non Dimenticar" in 2009. The song was released on her album, Volare, released in 2009 by Big Fish Records.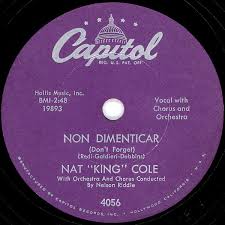 Nathaniel Adams Cole (March 17, 1919 – February 15, 1965), known professionally as Nat King Cole, was an American jazz pianist and vocalist. He recorded over one hundred songs that became hits on the pop charts. His trio was the model for small jazz ensembles that followed. Nat Cole also acted in films and on television and performed on Broadway. He was the first black man to host an American television series.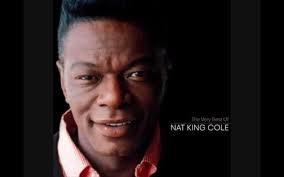 Throughout the 1950s, Cole continued to record hits that sold millions throughout the world, such as "Smile", "Pretend", "A Blossom Fell", and "If I May". His pop hits were collaborations with Nelson Riddle,[18] Gordon Jenkins, and Ralph Carmichael. Riddle arranged several of Cole's 1950s albums, including Nat King Cole Sings for Two in Love (1953), his first 10-inch LP. In 1955, "Darling, Je Vous Aime Beaucoup" reached number 7 on the Billboard chart. Love Is the Thing went to number one in April 1957 remained his only number one album.