Nutella Truffles Recipes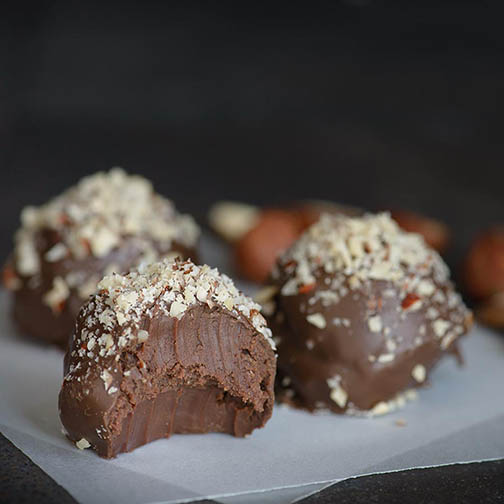 The perfect recipe to make for  Valentine's Day.
Our Nutella Truffles are to die for! Creamy Nutella – chocolate hazelnut cream – mixed with lush cream and enrobed in intense fine dark chocolate. The perfect recipe to make for  Valentine's Day.

Ingredients
Yield: 30 truffles
10 oz. semisweet/bittersweet chocolate chips, melted

1/2 cup chocolate hazelnut spread (Nutella)

1/3 cup heavy cream, hot

For coating: ¾ lb. dark chocolate chips, 70% cacao

1 cup roasted hazelnuts finely chopped
Directions
Melt the 10 oz. of bittersweet chocolate with the Nutella and the heated cream.Stir mixture with a rubber spatula until well combined and cover with plastic wrap. Refrigerate for 2 hours or until set.

Scoop out the mix and form into balls, then place on a cookie tray lined with wax or parchment paper. Chill in the freezer for 15-30 minutes.

Remove chocolate balls from the freezer. Melt ¾ lb. dark chocolate chips in a double boiler or in the microwave. Using a spoon, dip each truffle and coat evenly with chocolate, tapping the spoon against the side of the bowl to get rid of any excess of chocolate. Pace back on tray. Let the chocolate coating almost set and sprinkle with chopped hazelnuts.