Octopus Polpo Salad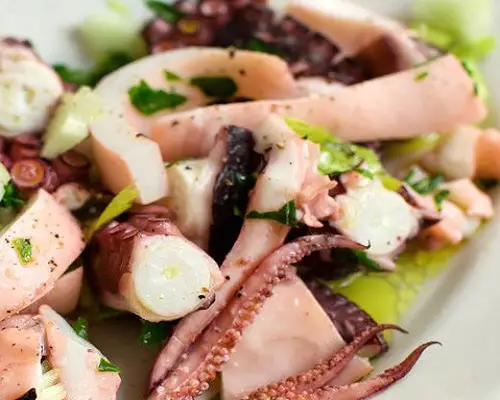 Polpo
4 lbs polpo,

1 lemon

3 bay leaves
Salad
2 cloves of garlic-chopped

2 lemons

Chopped parsley (small bunch)

¼ cup of olive oil

few flakes of red pepper (Optional)

salt, pepper

1 small stalk of celery chopped for garnish
Instructions Polpo
In a large pot, boil 3 gallons of water. Add lemon cut in half and bay leaves. Using a pot fork, immerge and reemerge each polpo three times and then, let it cook over a high flame.

When the water starts to boil again, cook it for 15 minutes shut off the flame and cover. Keep it in the hot water for an additional 15 minutes.

Taste for tenderness, if it is not done, keep it in the hot water for another 5 minutes. Let it cool to room temperature
Instructions Salad
1. Cut the polpo in small bite size pieces and place it in a large bowl.

2. In a small bowl mix the olive oil, the juice of 2 lemons, garlic, ½ of the parsley, red pepper (optional) ½ teaspoon of salt and some pepper, and dress the polpo with it. Taste for salt.

3. Serve at room temperature and garnish with celery and remaining parsley.