Vastedda Palermitana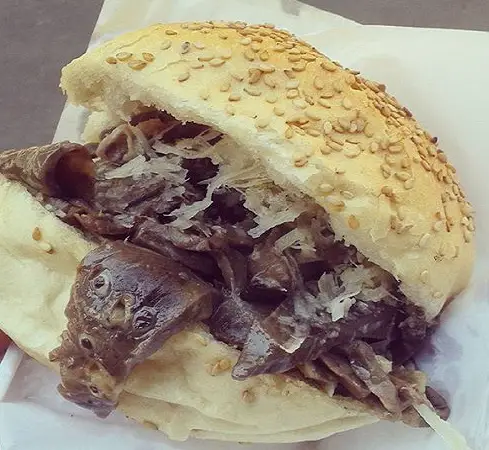 Ingredients
6 soft rolls, sliced halfway across

1 veal spleen, weighing about 2 lb

½ lb lard

1 lb ricotta

¼ lb Caciocavallo or pecorino cheese, shredded coarse
Instructions
1. A day ahead, boil the spleen for 45 minutes in an abundant amount of salted water.

2. Slice the spleen very thin, about 1/8 of an inch and set aside.

3. Place the lard and 3 tablespoons of water in a skillet over low heat.

4. When it starts to boil, add the spleen and fry it in the lard for a few minutes.

5. Using a slotted spoon, pick up some spleen, drip some lard from the meat and place it inside a roll.

6. Pressing with the slotted spoon against the meat, drain as much lard as possible.

7. Cover the meat with ricotta, sprinkle with some cheese and, when all the vasteddi are made, bake at 350 degrees for a few minutes, until cheese and ricotta combine and bread is lightly toasted.