Orzo-White Bean Soup with Kale
Orzo-White Bean Soup with Kale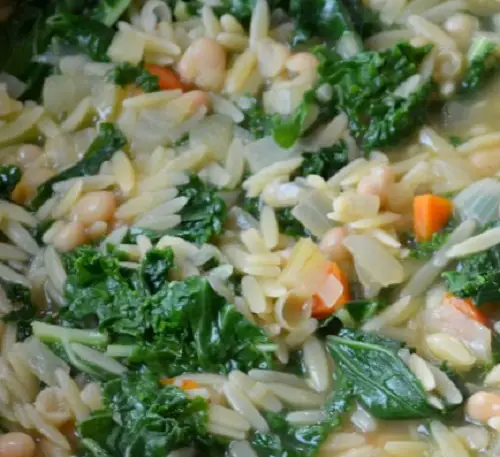 Ingredients
2 tablespoons olive oil

1 onion, cut into small dice

1 carrot, cut into small dice

1 celery stalk, cut into small dice

2 teaspoons chopped fresh rosemary

1 cup orzo

1 quart chicken or vegetable broth

1 can white beans, drained

6 packed cups washed, stemmed and chopped kale
Instructions
Heat oil in a large saucepan or a small Dutch oven over medium-high heat. Add onion, carrot, and celery; cook until soft, 4 to 5 minutes.

Stir in rosemary and orzo to coat; add broth and beans and bring to a simmer.

Lower heat to medium-low and continue to cook until orzo is tender and mixture is a stew-like consistency, about 4 minutes longer. Stir in kale, cook until just wilted, a minute or 2 longer. Serve.