Panettone Stuffing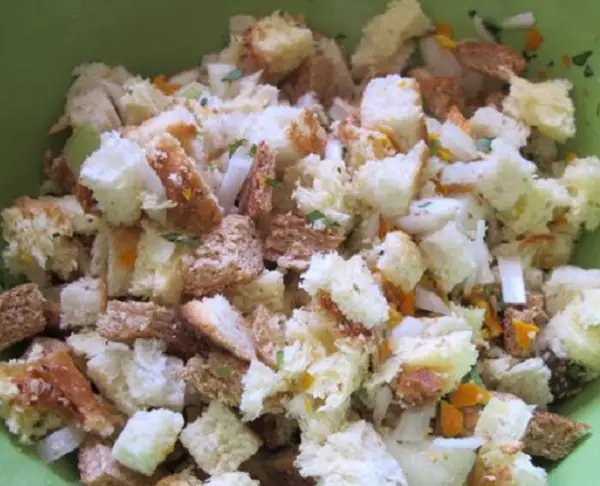 This stuffing has a slightly sweet flavor and wonderful aroma.
Don't add too much broth to moisten it or can get very mushy.

Ingredients:
(Serves 4)
4 cups panettone, cut into 1-inch cubes

2 tablespoons butter

1/2 cup diced celery

1/2 cup diced carrot

1/2 cup diced onion

1/2 cup dried cranberries

Salt and pepper

1 teaspoon dried thyme

1 to 1-1/2 cups chicken broth
Directions:
Preheat oven to 300 degrees F.

Spread the panettone cubes on a baking sheet in a single layer.  Bake for 10 minutes, stir the bread, and bake for an additional 5 minutes.  The bread should be slightly browned and crusty.  Cool the bread on the pan on a cooling rack for at least 30 minutes.

Melt the butter in a skillet over medium-high heat.  Add the celery, carrots, and onion.  Saute the vegetables for 6 to 8 minutes, or until they are starting to get tender.  Stir in the dried cranberries, salt and pepper, and thyme; sauté for another 2 minutes.  Transfer the mixture to a large bowl.  Add the chicken broth, a little at a time, until the bread mixture is moist but not soggy.  Transfer the mixture to a buttered baking dish.

Preheat the oven to 350 degrees F.

Cover the baking dish with foil and bake for 20 minutes.  Remove the foil and bake for an additional 10 to 15 minutes.  The stuffing should be heated through but not dry and crusty.