Pappardelle with Broccoli Rabe and Pancetta
Pappardelle with Broccoli Rabe and Pancetta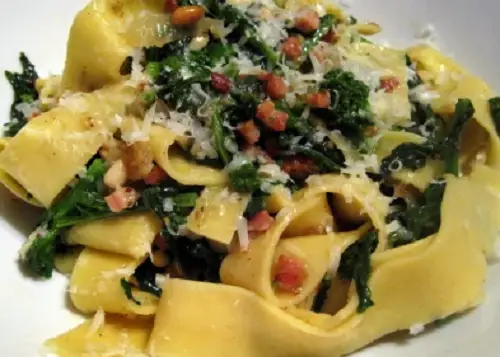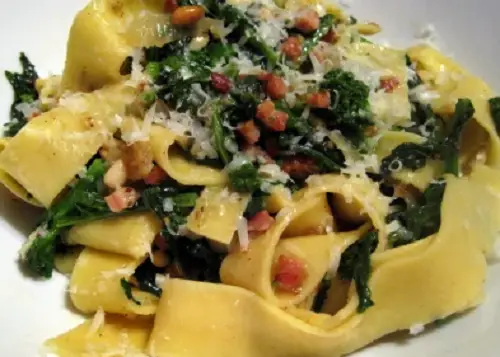 Makes 4 servings.
Ingredients:
4 tablespoons extra-virgin olive oil, divided
3 garlic cloves, peeled, flattened
1 medium onion, chopped
3 ounces thinly sliced pancetta, chopped
1 teaspoon fennel seeds, crushed
1/4 teaspoon dried crushed red pepper
1 large bunch broccoli rabe (also called rapini; generous 1 pound),
1 cup water
One 8.8-ounce package dried Pappardelle pasta
1 cup freshly grated Pecorino Romano cheese, plus additional for serving
1/2 cup pine nuts, toasted
Directions:
Take the broccoli rabe and slice the stems 1/2 inch thick and cut the tops into 2-inch pieces.
Heat 2 tablespoons olive oil in heavy large skillet over medium-high heat.
Add garlic and cook until golden brown, stirring frequently, about 3 minutes.
Discard garlic.
Add onion, pancetta, and fennel seeds to skillet; saute until onion is tender and pancetta begins to brown, about 8 minutes.
Add dried crushed red pepper, then broccoli rabe stems and cook 4 minutes to soften slightly, stirring occasionally.
Stir in broccoli rabe tops, sprinkle with salt, and add 1 cup water.
Cover and cook until stems and tops are tender, about 5 minutes.
Season to taste with salt and pepper.
Meanwhile, cook pasta in large pot of boiling salted water until 'al dente'.
Drain pasta, reserving 1 cup cooking liquid.
Add pasta to skillet with broccoli rabe and stir over low heat to combine, adding reserved cooking liquid by tablespoonfuls to moisten if necessary.
Stir in remaining 2 tablespoons olive oil and 1 cup cheese.
Season to taste with salt and generous amount of pepper.
Transfer to shallow bowl.
Sprinkle with pine nuts and serve, passing additional cheese separately. Makes 4 servings.