Pasta al Forno with Grilled Sausage Ragù and Grilled Vegetables
Pasta al Forno with Grilled Sausage Ragù and Grilled Vegetables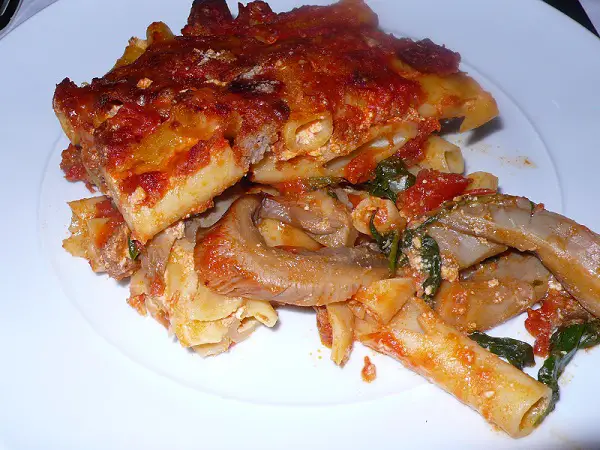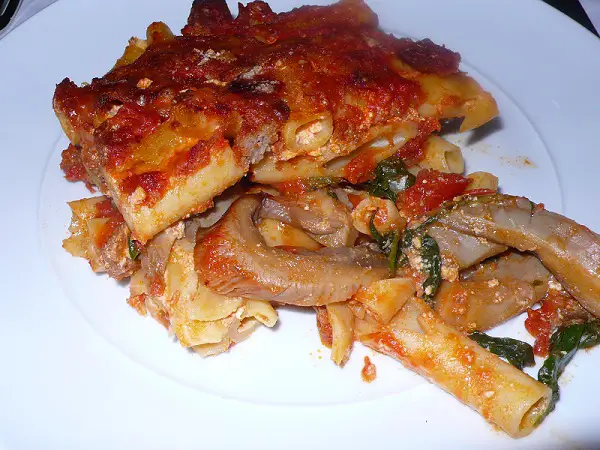 Ingredients
    3 grilled Italian sausages,

    1 onion, chopped

    1 box of Pomì strained tomatoes (of course any high quality tomato will do for this)

    3 tbsp extra virgin olive oil

    4 cups chopped grilled veggies, we used eggplant and zucchini, but you could use any vegetable that you like

    2 cups grated mozzarella, sliced if using high quality mozzarella

    1 lb pennoni or any short pasta on hand

    1 cup fresh basil leaves

    1/2 cup grated cacioricotta or parmigiano
Directions
Heat a dutch oven or a heavy bottomed pot over medium heat. Add oil and onions, sauteing until they become translucent. Add the grilled meat, sliced or left whole, depending on your tastes, when it starts to sizzle add the tomato, bring to a simmer and lower the heat. Partially cover and simmer over low heat for at least an hour. Add water as the sauce begins to thicken.

Preheat the oven to 350°F.

Cook the pasta in boiling salted water until it is almost tender enough to eat, about 3 minutes less than usual.

Spread about ¾ cup of the ragù on the bottom of a 9- by 13- by 2-inch baking dish.

When the pasta is done, drain it well, then toss it with enough ragù to dress it, but not smother it.

Spread half of the pasta in the baking dish. Evenly spoon over it ¾ cup more ragù. Cover with half of the grilled veggies and half of the sliced mozzarella. Top with the rest of the pasta. Add the rest of the veggies and the mozzarella, add the rest of the ragù, and add the fresh basil.

Bake for about 45 minutes, or until bubbling.

Let the casserole cool for 10 minutes before cutting it into portions. Serve hot.