Spaghetti alla Gricia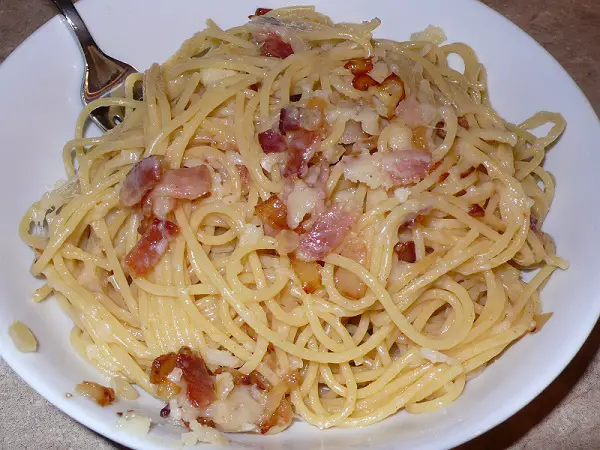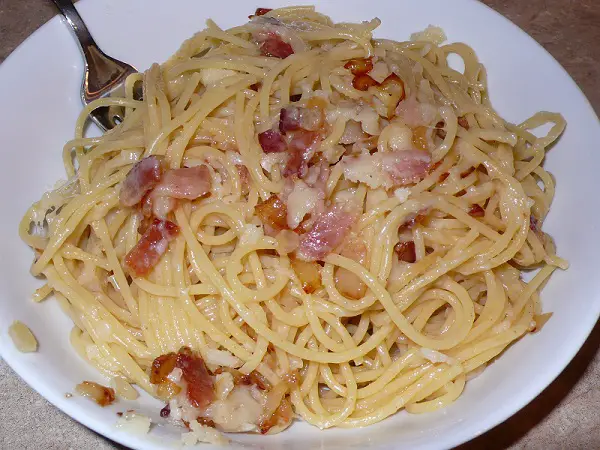 Ingredients
    1/4 lb of bacon (pancetta or guanciale would be better if available)

    1 small onion, chopped

    1/2 lb of spaghetti

    1 tbsp extra virgin olive oil

    1/2 cup grated parmiggiano reggiano or pecorino romano

    Salt to taste
Directions
Fill a large pot with water for the pasta. Bring to a boil over high heat.

Cut bacon into small slices, chop onions. Heat the bacon in a heavy skillet over medium-low, as the bacon starts to sizzle, add onion. When onions starts to turn a golden brown add the oil and turn the heat to low. The onions and the pancetta will caramelize, but you don't want them to burn.

Once the water starts to boil for the pasta add a small handful of salt to the water and bring to a rolling boil. add the pasta and cook until al dente.

When the pasta is perfectly al dente, drain the pasta, but leave the burner on at a low flame. Return pasta to the pot on the low flame and add the onions and bacon and toss to cover the pasta.

Serve with grated parmiggiano or pecorino.