Linguine con Finocchio e Sarde
Linguine con Finocchio e Sarde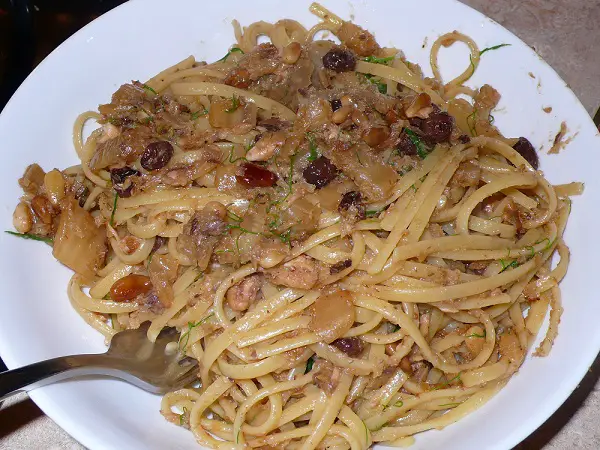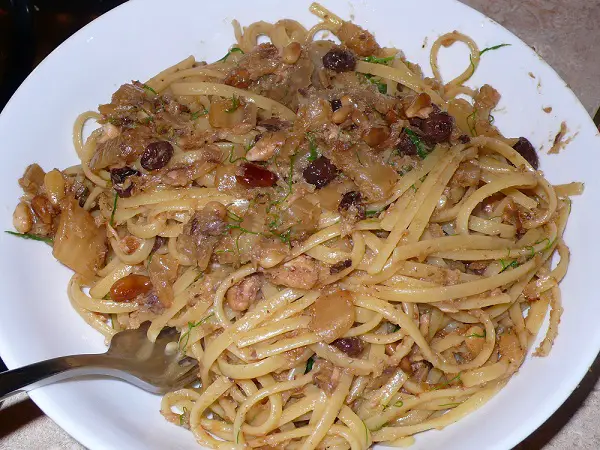 Ingredients
    1 can of sardines packed in olive oil

    1 fennel bulb, chopped into small pieces

    3 tbsp extra virgin olive oil

    2  cloves garlic, peeled and left whole

    2 tbsp raisins

    2 tbsp pine nuts

    Toasted bread crumbs

    1/2 lb of linguini

    Salt for pasta water

    Fennel fronds, chopped
Directions
Fill a large pot with water for the pasta. Bring to a boil over high heat.

Heat oil in a wide saucepan over medium-high heat and add the whole cloves of garlic. When garlic starts to sizzle add the fennel, sauté for a few minutes until they start to cook. Add the raisins and the pine nuts and simmer until the water for the pasta is boiling.

In the meantime, toast your breadcrumbs in a small heavy bottomed skillet. I usually keep old bread in the freezer and chop it up in a blender when it has thawed, it is much better than store bought breadcrumbs, and two minutes more of an effort.

Once the water starts to boil for the pasta add a small handful of salt to the water and bring to a rolling boil. Add the pasta and cook until al dente. You should add the sardines to the pan at this point.

When the pasta is perfectly al dente, add a cup of the pasta water to the sauce, turn up the heat and drain the pasta. Without shaking all of the water out of the colander pour the pasta into the pan and toss it with the sauce. This allows for the pasta to cook a little longer in the sauce and to absorb the flavor.

Take the pan off of the heat and toss with the toasted bread crumbs and chopped fennel fronds. Serve immediately.