Pasta e Zucca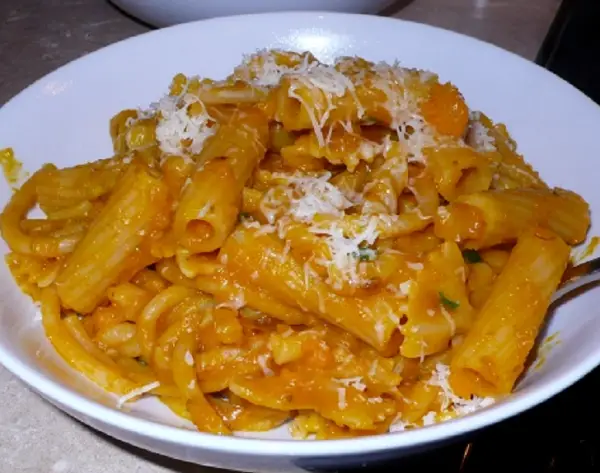 Ingredients
    2 lbs butternut or acorn squash, or pie pumpkin

    1/3 cup extra-virgin olive oil

    2 large cloves garlic, smashed

    1/8 to 1/4 tsp of red pepper flakes

    2 tsp salt, or to taste

    1/2 lb of spaghetti, broken into 1½-inch or slightly longer lengths, or pasta mista, tubetti, ditali or ditalini

    1/3 cup finely cut parsley

    Grated Parmigiano-Reggiano
Directions
For easier peeling and dicing, cut the squash crosswise into 3/4-inch slices. Peel the slices and discard the seeds and fibrous interior. Now cut the squash into 3/4-inch cubes. If using pumpkin, cut into wedges, discard the seeds, then peel the wedges and cube the pulp.

In a 3-quart saucepan, over low heat, combine the oil and garlic and cook the garlic until it is soft and barely coloring on both sides, pressing into the oil a few times to release its flavor. Remove the garlic.

Add the cubed squash or pumpkin and the red pepper. Sprinkle with 1/2 tsp of the salt. Increase the heat to medium-high and sauté the squash until it is soft and beginning to brown, about 15 minutes. If using pumpkin, it will take about 25 minutes to get the same semicooked state. (You may need to add some water in case the pumkin starts to burn and stick).

Add 5 to 6 cups of water and a tsp of the salt. Raise the heat, cover the pot, and bring to a rolling boil.

Stir in the pasta, re-cover the pot, and when the water returns to a boil, uncover and cook the pasta until cooked to your taste. While the pasta cooks, stir it frequently and mash some of the squash cubes with the back of a wooden spoon to thicken the dish. Taste for salt and correct if necessary. Correct the consistency, if desired, by adding more water. It can be soupy, thick, or almost dry, depending on your taste.

Stir in the chopped parsley and serve hot with parmigiano.