Penne with Arugula in Tomato-Cream Sauce
Penne with Arugula in Tomato-Cream Sauce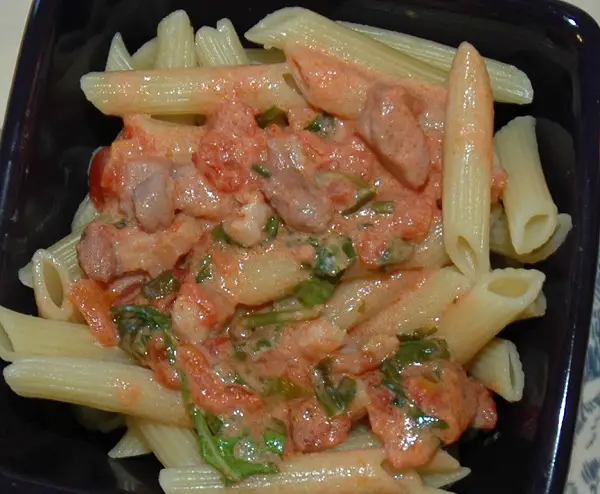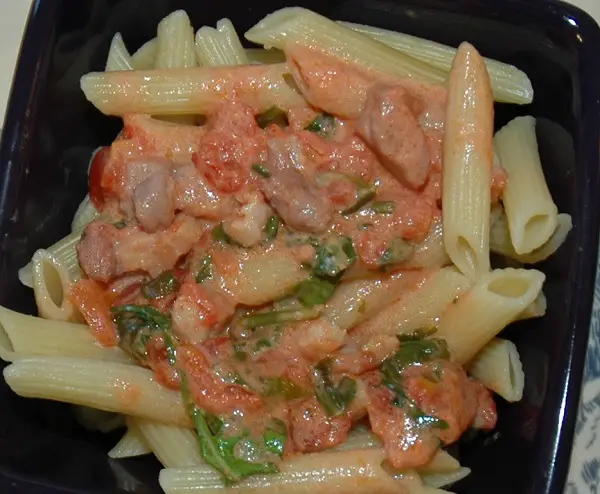 Ingredients
    1 Tbsp. Olive Oil

    3 oz. Pancetta, thinly sliced & chopped

    1 (14 oz. can) Diced Tomatoes

    1/4 cup heavy cream

    3 oz. Baby Arugula, chopped

    Salt & Pepper

    1 lb. Penne
Directions
Boil the water for the penne on a separate burner.

While the water's boiling…

In a small sauce pan on medium-high heat, saute the pancetta.

When slightly browned & crisp, add the diced tomatoes. Simmer for 3-4 minutes.

 Stir in the cream, blending it. Simmer another minute, then add the arugula.

 Simmer until the arugula wilts then season with S & P.

When the pasta water is boiling, add the penne & cook till al dente.

Drain the pasta.

Serve the penne topped with the sauce.