Pasta with Bacon, Rosemary, and Tomatoes
Pasta with Bacon, Rosemary, and Tomatoes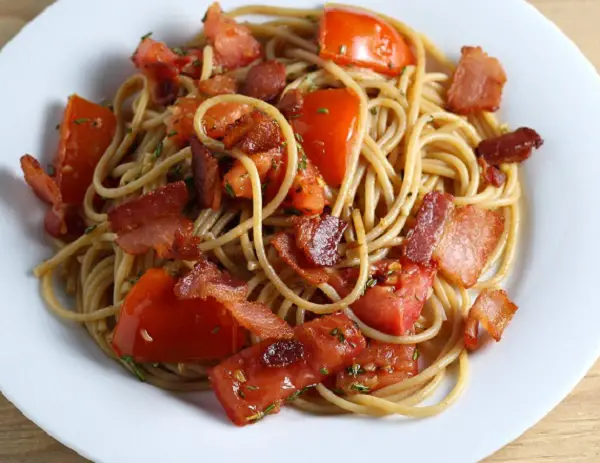 Ingredients
Makes 2 servings
6 ounces whole wheat spaghetti

3 ounces bacon, sliced into 1/2-inch pieces

1 sprig fresh rosemary, leaves torn off and finely chopped

3 garlic cloves, minced

1/2 teaspoon crushed red pepper flakes

Salt and pepper

2 large tomatoes, cored and chopped

Balsamic vinegar to taste
Directions
Cook the pasta according to package directions in a large pot of salted water.

Meanwhile, cook the bacon over medium heat until it's reached your desired crispness. Remove the bacon from the pan and drain on paper towels. Reserve about 1 tablespoon of the fat in the pan and drain the rest.

Add the rosemary, garlic, and red pepper flakes to the skillet and cook until the garlic has softened and is fragrant, about 1 minute. Carefully add the tomatoes to the pan (they may splatter) and cook for 1-2 minutes.

Drain the pasta and reserve about 1/4 cup of the pasta water. Add the pasta and bacon to the skillet and toss to combine.If the pasta is dry, add some of the reserved pasta water. Season to taste with salt and pepper and the balsamic vinegar.