Pasta with crispy bacon and peas recipe
Pasta with crispy bacon and peas recipe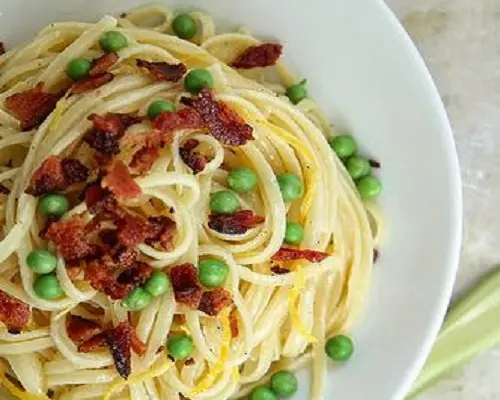 The pasta with crispy bacon and peas is a dish very tasty, easy to prepare

INGREDIENTS
1 small white onion

3.5 oz- 100 g of peas (fresh or frozen)

3.5 oz -200 ml of vegetable broth

1 tablespoon extra-virgin olive oil

3 oz -50 g of bacon

1.5 oz -50 ml of dry white wine

Freshly ground black pepper

Salt

6 oz -160 g of pasta
PREPARATION
Clean and chop the onion finely.

Heat the broth.

In a pan put oil, onion, brown it on the stove and bring to medium heat. Combine a couple of tablespoons of vegetable broth and cook for 5 minutes.

Increase heat, add the bacon and stir. When it starts to sizzle add the wine, let it evaporate, stirring constantly.

When the cooking liquid has evaporated add the peas and sauté for a few minutes, then add a ladle of broth, freshly ground pepper and cook uncovered over medium heat for 15 minutes. If the juices were too dry, add more broth. When cooked, taste and adjust salt if necessary.

Boil the pasta in salted water and, just before draining, add half a ladle of cooking water into the pan of sauce, then turn on the fire.

Place the drained pasta into the sauce in the pan over high heat for a few minutes, stirring frequently.

Serve immediately.