Pasta with Roasted Red Pepper Pesto & Grilled Vegetables
Pasta with Roasted Red Pepper Pesto & Grilled Vegetables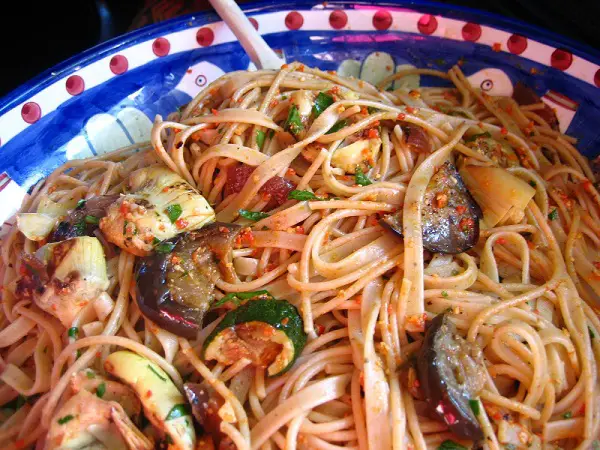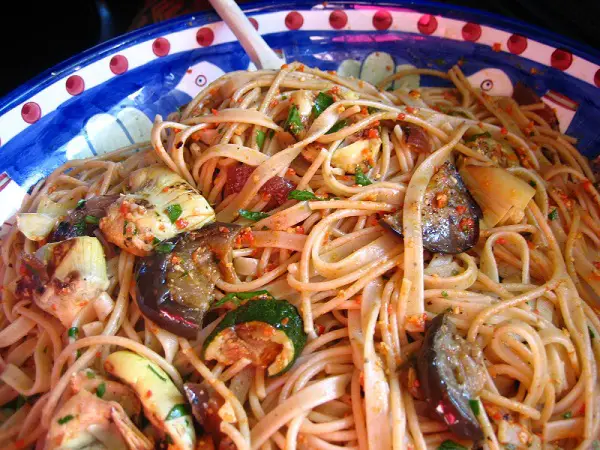 Ingredients
Serves 4
13oz/375g pasta  spaghetti or spaghettini

½ cup reserved pasta water (I don't always need it, but you can't get it back once it's gone down the drain)

At least 4 tbsp roasted red pepper pesto

1 cup grilled vegetables (I love eggplant, artichoke hearts, red onions, zucchini-all sliced ¼", thin asparagus spears, but choose your favorites)

1-2 tbsp olive oil

Pinch or two of red pepper flakes (optional)

½ cup or so Asiago cheese, coarsely grated
Directions
Cook pasta in boiling salted water until al dente and drain. Reserve ½ cup of pasta water.

In the meantime, in a large serving bowl, place the grilled vegetables, especially if you've made them earlier and taken them from the fridge. This way the hot pasta will heat the vegetables.

Add the drained pasta, pesto, cheese and oil, toss and taste for seasoning. If you find the dish too "dry" – that is not saucy enough for you, add a little more oilve oil or the reserved pasta water.