Pasta with Savoy Cabbage & Pancetta
Pasta with Savoy Cabbage & Pancetta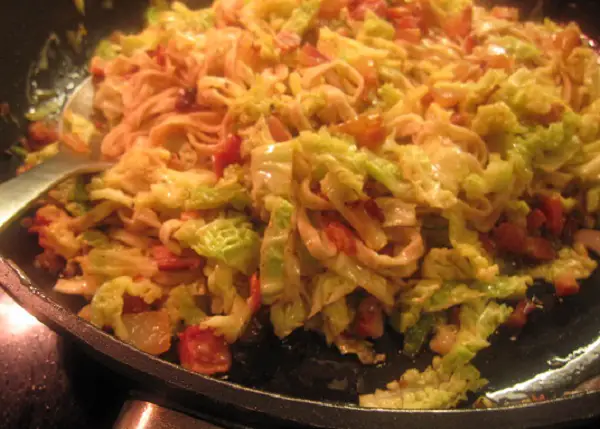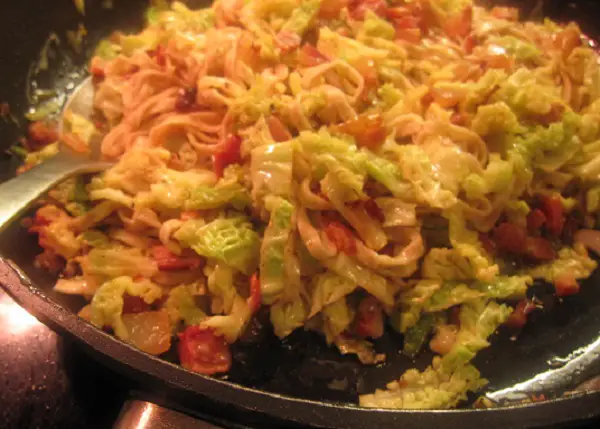 Ingredients:
Serves 4-6
1lb/450g  spaghetti or linguine

3 tbsp extra virgin olive oil

¾ cup pancetta, diced

¼ cup onion, diced

Salt & freshly ground black pepper

1 cup dry white wine

1 ½ cups Savoy cabbage, deribbed and diced

6 tbsp grated Parmigiano-Reggiano
Directions:
Cook the pasta according to the package in salted boiling water.

In the meantime, using a large skillet, heat the olive oil, pancetta and onion over high heat. Cook, stirring until the onion is translucent (about 5 minutes). Season to taste with salt & pepper. Add the wine and cook, stirring until reduced by half. Stir in the cabbage and reduce the heat to lowest possible and simmer until the cabbage is tender but still a bit crunchy.

Once the pasta is cooked, drain well, reserving a cup of the pasta water.

Add 2 tbsp of the cooking water to the cabbage mixture and raise the heat to high. Add the pasta and toss to coat evenly, using tongs. Add more pasta water if needed and half the cheese. Toss again.

Transfer to a serving bowl, top with the rest of the cheese and more freshly ground pepper and serve.