Pasta with Roasted Red Pepper Sauce
Pasta with Roasted Red Pepper Sauce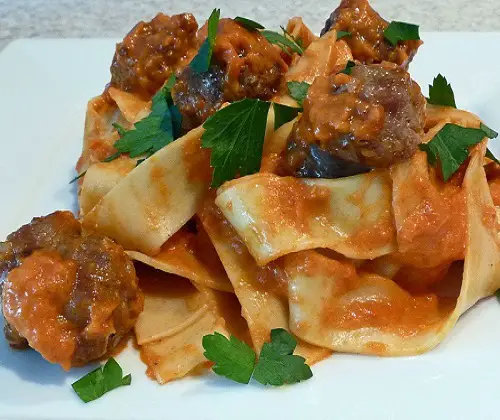 Ingredients
Serves: 4
Prep: 60 minutes
Cook: 15 minutes
1 lb. Pasta (Suggestions: Pappardelle, Penne, Ziti, Rigatoni, Orrechiette , Pasta Fresca, Gnocchi or Polenta etc.)

1 1/2 lb. Italian Sausage (optional) – Recommend mixture of Hot and Sweet – cooked and sliced

3 Tbsp. Olive Oil

1 Onion – chopped

3 Cloves Fresh Garlic – chopped

1 Tbsp. Tomato Paste

1/4 tsp. Red Pepper Flakes

Salt and pepper to taste

3 Tbsp. Mascarpone Cheese

Chopped Fresh Italian Flat Leaf Parsley for garnish

Plenty of grated Parmigiano-Reggiano or Pecorino cheese to serve with the finished pasta
Instructions
Prepare pasta according to package directions.

Roast peppers as recommended above. You can roast them the day before and refrigerate, if you like.

Cook Sausage (if using).

Saute onion in olive oil at medium high heat for just a few minutes until tender.

Add chopped garlic and cook another minute – do not burn garlic.

Add the roasted peppers to the pan.

Then add the tomato paste, red pepper flakes, salt and pepper and cook about 5 minutes.

Put the mixture in a food processor or blender and process until it becomes a VERY smooth light puree.

Now transfer the puree back to your pan. Check for seasoning and adjust with salt and pepper if needed.

Heat through. Add mascarpone and mix into the sauce. This is the point at which the sauce transforms to that beautiful coral color!

Add your cooked sliced sausage (if using) and toss.

Mix with pasta – garnish with parsley – Serve with plenty of cheese.