ROAST PEPPERS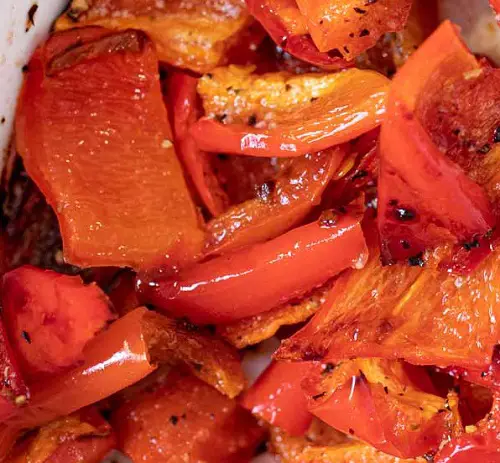 Ingredients
4 peppers – one of each color: green, yellow, red, orange

Olive oil for brushing
Directions
Arrange the 4 peppers whole on a baking sheet – brush with olive oil on all sides.
Place pan in oven under broiler as close as you can get to the broiler without touching it.
When one side starts to blotch and blacken, using tongs turn the peppers and blacken each side. See photo. Watch them carefully, and do not let peppers get too black or scorch. Results are rapid. Don't walk away. This is not a time to call your best friend to brag that you are roasting your own peppers. FOCUS!
When finished, using tongs, place the peppers in a bowl and quickly cover tightly with plastic wrap for 15 minutes. This will steam the skins and make removal easy.
Peel all of the skins off the peppers. They will slide off easily. Assist with a fork if needed.
Remove the stem from each pepper – this will practically fall off. Scrape the seeds off with a fork. You don't want to see seeds in this dish.
Cut the peppers into large pieces- 2-3 inches. Do not chop in small pieces. See photo.
Set aside.