STEAK WITH (ROASTED) RED PEPPER SAUCE
STEAK WITH (ROASTED) RED PEPPER SAUCE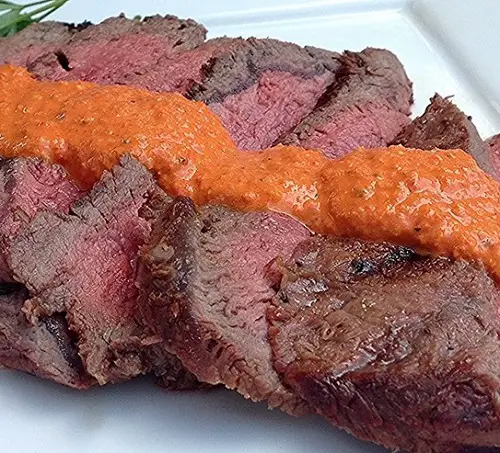 Ingredients
Serves: about 4
Prep: 45 minutes
Cook: about 15 minutes
1 Flatiron Steak (approx 1 3/4 lb.) or any type of steak you like
THE MARINADE
2 Cloves Fresh Garlic – sliced

3/4 Cup Olive Oil

1/4 Cup Fresh Lemon Juice

1 Tbsp. Fresh Thyme Leaves or Lemon Thyme Leaves

1 tsp. Dried Oregano

Plenty of Kosher Salt and Freshly Ground Black Pepper to taste
Directions
Pound the steak a little with a mallet or heavy object and pierce it with sharp end of mallet or a knife in several places.

Whisk above ingredients for marinade together and marinate steak several hours or preferably overnight, turning once during marinating.

Discard the marinade and grill your steak to taste  – let rest 10 minutes – then slice to serve. Pour a little of the sauce on the meat as pictured or serve the sauce on the side—or both!
THE ROASTED RED PEPPER SAUCE
1 Cup Roasted Red Peppers (Look HERE to roast your own) or use whole roasted red peppers from jar drained and patted dry
1/2 Cup Almonds

1 Garlic Clove

Dash of Red Pepper Flakes

1 Tbsp. Fresh Lemon Juice

1/4 Tsp. Dried Oregano

1 Tsp. Fresh Thyme Leaves or Lemon Thyme Leaves

1/8 Tsp. Sugar

3 Rounded Tbsp. Mayonnaise

2 Tbsp.Extra Virgin Olive Oil

Fresh Parsley for garnish
Directions
Place all above ingredients for sauce except the parsley into a blender, Vitamix, or food processor.

Blend well until smooth.

You can make this gorgeous red sauce ahead and refrigerate or freeze until ready to use. The recipe makes about 1 1/4 cups of sauce which is enough for 2 steaks.

Serve the sauce at room temperature with your sliced steak—or even lamb!