Pasta with Zucchini and Cream
Pasta with Zucchini and Cream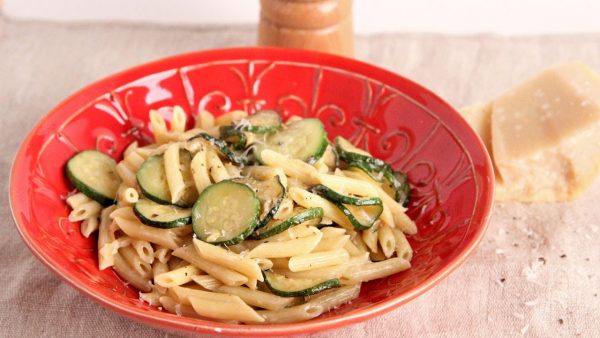 Ingredients
    1 lb of Medium cut Pasta such as Penne

    1-1/2 lb of Zucchini, thinly sliced

    1 Small Yellow Onion, thinly sliced

    2 Tbsp of Olive Oil

    1 cup of Heavy Cream or "Italian Panna Per Cucinare"

    Salt and Pepper, to taste

    1/2 cup of Freshly Grated Parmigiano Reggiano (parmesan cheese)
Preparation
    1) Fill a pot with water, add a generous pinch of salt and bring to a boil.
    2) In a large skillet with high sides, add the olive oil, allow it to heat up a bit, then add the zucchini and onion along with a pinch of salt and cook for about 10 to 12 minutes or until the veggies cook down quite a bit and develop some color.
    3) When the zucchini has about 9 minutes left to cook, add the pasta to the boiling water, cook according to package instructions then drain well and set aside.
    4) Add the drained pasta to the zucchini mixture, add the cream along with the parm and plenty of black pepper, cook all together for about 2 minutes then serve right away.