Penne with Garlic Roasted Mushrooms
Penne with Garlic Roasted Mushrooms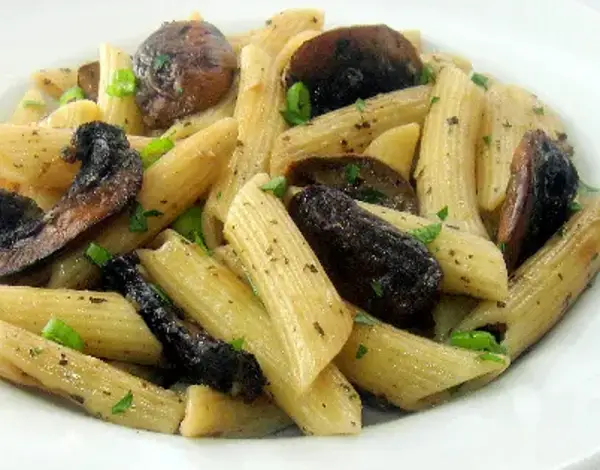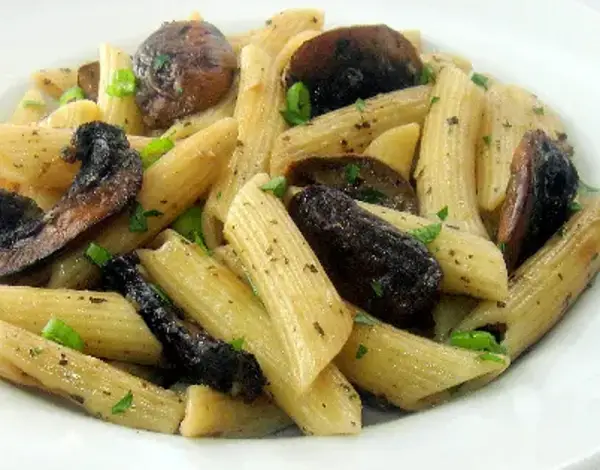 Ingredients:
Yield: 4 servings.
2 pounds assorted mushrooms cleaned, stemmed and sliced or quartered

2 tablespoons finely chopped garlic

1/2 cup extra-virgin olive oil

1/2 teaspoon dried oregano

1 teaspoon dried basil

1/4 cup chopped Italian parsley

1/4 cup chopped green onions

1 cup grated Parmesan cheese

12 ounces dried penne
Directions:
1) Preheat oven to 425 degrees F. In a large bowl, toss together cleaned, sliced mushrooms, garlic, olive oil, oregano, and basil. Turn mixture onto a large baking dish or rimmed cookie sheet large enough to hold them in a single layer.
2) Transfer pan to oven and roast, stirring periodically, until mushrooms release their juices, shrink, and begin to caramelize, about 30 to 35 minutes.
3) When mushrooms are nearly done, prepare pasta according to package directions. Drain pasta, reserving 1 cup of cooking water. Add pan contents to pasta along with parsley, green onions and Parmesan cheese. Add reserved pasta water by tablespoons to form a sauce that naps pasta. Toss well and serve immediately.