Roasted Squash and Sausage with Herbs
Roasted Squash and Sausage with Herbs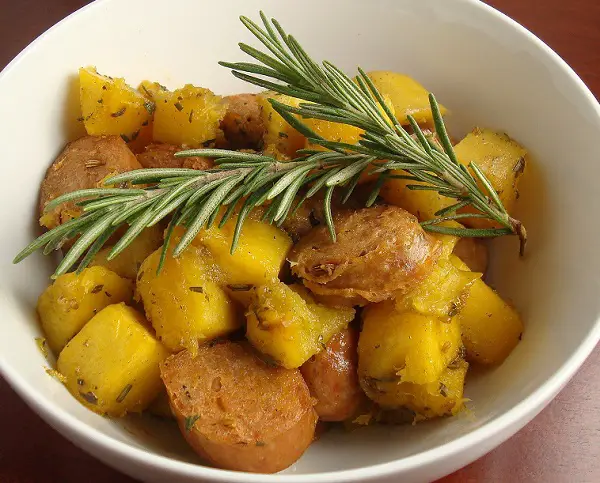 Ingredients
2 lbs. winter squash, cut into cubes (use any type of winter squash)

4 spicy Italian chicken sausage

2 tablespoons olive oil

1/2 teaspoon dried thyme (or more)

Kosher salt and fresh ground black pepper to taste

1-2 tablespoons chopped fresh herbs of your choice (I used rosemary and a bit of fresh thyme)
Directions
Preheat oven to 400 degrees and line a dish with foil. (I used a 9×9 pan)

Put squash in a bowl, then toss with olive oil, dried thyme, salt and fresh ground black pepper and chopped fresh herbs, if using.

Arrange squash cubes in an even layer in the baking dish and start to roast.

While you're cutting up squash, put the sausage on a plate, poke holes on each side of the sausages, and microwave on high for about 4-5 minutes (or until sausage is firm enough to cut into even slices.) Remove sausage from microwave and let cool. When it's cool enough to handle, cut the sausage into slices about 3/4 inch wide.

After squash has cooked for 20 minutes, stir squash, spread back out into the dish in an even layer, then arrange sausage slices on top of squash and roast 20 minutes more, or until sausage pieces are starting to brown. Then use a fork or tongs to carefully turn each piece of sausage so the other side is facing up and roast 10-20 minutes more, until sausage is browned and squash is slightly browned on top and caramelized on the bottom.

Serve hot.