Shrimp and Caper Salad with Farro
Shrimp and Caper Salad with Farro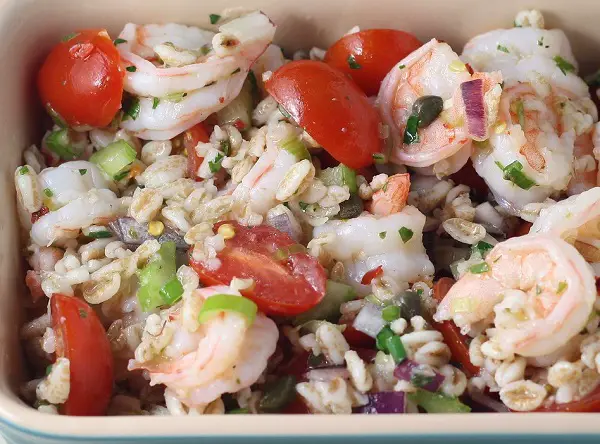 Ingredients
Makes 4 servings
For the Salad:
1 pound medium shrimp, peeled, deveined, and tails cut off

1 clove garlic, grated on a microplane

1 1/2 tablespoons fresh lemon juice

1/2 teaspoon red pepper flakes

1 scallion, finely chopped

1/2 cup finely chopped red onion

1 tablespoon capers, drained

1 celery stalk, finely chopped

30 cherry tomatoes, halved

1 cup farro, cooked and cooled to room temperature

Salt and pepper to taste
For the dressing:
1/2 teaspoon dried oregano

1 tablespoon extra virgin olive oil

1/4 teaspoon kosher salt

Freshly ground black pepper to taste

1 1/2 teaspoons fresh lemon juice

1 1/2 teaspoons red wine vinegar

1 teaspoon finely chopped fresh flat-leaf parsley
Directions
Bring a large pot of water to a boil. Add a pinch of salt and then add the shrimp.

Cook until the shrimp are pink and just cooked through, 2-4 minutes.

Drain the shrimp and set aside.

In a large boil, combine the grated garlic, lemon juice, red pepper flakes and a large pinch of salt.

Add the hot shrimp and stir to coat completely. Let the shrimp marinate for at least 10 minutes.

Add the scallion, red onion, capers, celery, tomatoes, and farro to the shrimp mixture.

In a small bowl, whisk together the dressing ingredients and then add to the shrimp mixture. Toss well to combine.

Taste and adjust seasonings as needed.

Serve at room temperature or cold.