Penne with Oven-Roasted Chicken, Asparagus, and Sun-Dried Tomatoes
Penne with Oven-Roasted Chicken, Asparagus, and Sun-Dried Tomatoes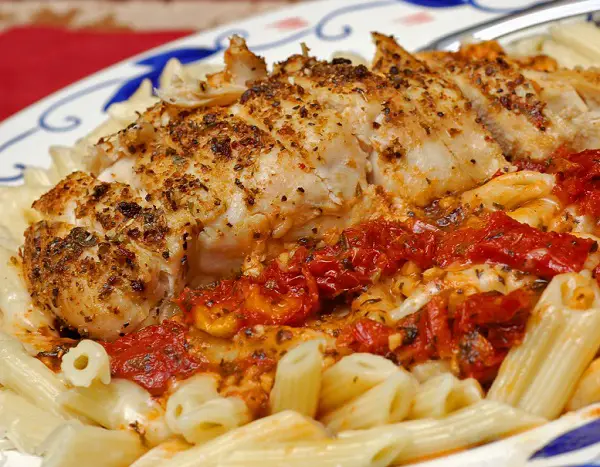 Ingredients:
1/2 cup drained, oil-packed sun-dried tomatoes, sliced, with 1 Tbsp oil reserved

16 asparagus spears, tough ends trimmed, sliced diagonally into 1/2" pieces

2 – 2.5 lb. boneless skinless chicken breasts

1/2 cup coarsely chopped fresh basil

2 large garlic cloves, minced

1/2 tsp dried oregano

1/2 cup chicken broth

1/2 cup dry white wine

1 Tbsp tomato paste

8 oz penne pasta

Olive oil

Shredded mozzarella/parmesan cheese
Directions:
Place chicken in a baking dish. Drizzle with olive oil and sprinkle chicken with a mixture of seasonings – basil, garlic spice, and parsley.

Cook in the oven for 35 – 45 minutes at 375 degrees or until chicken is cooked thoroughly through.

Meanwhile, cook pasta according to package directions.

Add 1 Tbsp. of the reserved sun-dried tomato oil and 1 Tbsp. olive oil to a large skillet. Over high heat, stir-fry the asparagus for 3 minutes.

Add the sun-dried tomatoes, garlic, 1/4 cup basil, oregano, chicken broth, wine and tomato paste.

Bring to a boil and simmer until asparagus is crisp-tender, about 5 minutes.

Put cooked pasta on a plate.

Place a heaping layer of the shredded mozzarella/parmesan cheese on top of the pasta.

Next, drizzle sun-dried tomato mixture over the pasta and cheese.

Place oven-roasted chicken on top.