Penne with Sausage Ragu and Sicilian Meatballs
Penne with Sausage Ragu and Sicilian Meatballs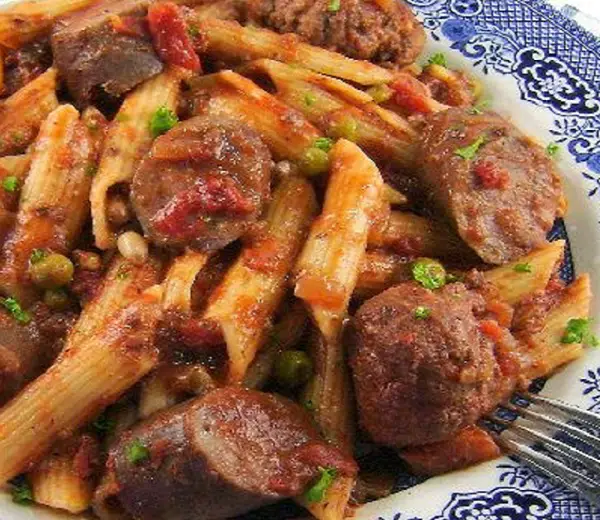 Ingredients
Yield: 8 to 10 generous servings
Meatballs
3/4 cup fine fresh bread crumbs from Italian bread (crusts discarded)

1/4 cup whole milk

1/2 cup (2 3/4 oz) whole almonds with skin, toasted

1 1/2 teaspoons sugar

1 pound ground beef chuck

1/2 cup finely grated pecorino Romano or Parmigiano Reggiano

1/4 cup dried currants

1/4 cup pine nuts, lightly toasted

2 teaspoons salt

1/4 teaspoon ground cinnamon

1 large egg
Sausage Ragu
2 tablespoons extra-virgin olive oil

Sicilian Meatballs (above)

12 sweet Italian sausage links (2-pounds total)

1 large onion, finely chopped

1 large garlic clove, smashed

2 cups dry red wine (i.e. Chianti)

2 tablespoons tomato paste

1 (28-ounce) can crushed tomatoes in puree

1/2 bay leaf

Pasta

1-1/2 ponds ridged penne

1 cup frozen peas, thawed

Salt and freshly ground black pepper
Directions:
1) To make meatballs: Place bread crumbs and milk in a medium bowl. Stir to mix. Pulse almonds with sugar in a food processor until finely ground. Add to bread crumb mixture, along with remaining ingredients, and mix with your hands until just combined. Roll mixture into 1-inch meatballs and transfer to a plate. Refrigerate if not cooking immediately.
2) To make the sausage ragu: Heat oil in a large 8 to 9-quart pot until oil shimmers. Working in batches, brown meatballs, turning occasionally, about 4 minutes per batch. Transfer to a plate. Prick sausages with a fork and brown in the same pot, turning occasionally, about 5 minutes. Transfer to another plate. Reduce heat to moderate and cook onions, stirring occasionally, until softened, about 5 minutes. Add garlic and cook until fragrance is released, about 30 seconds. Stir in wine, tomato paste, crushed tomatoes and puree and bay leaf. Return sausages and meatballs, along with accumulated juices to center of pot. Cover and simmer for 1-1/2 hours.
3) To prepare pasta: Bring 6 to 8 quarts of water to a boil. Add 2 to 3 tablespoons of salt and return to a boil. Following package directions, add pasta and cook until al dente. Drain well and return to pot.
4) To serve: Add peas to ragu and simmer, covered, for 5 minutes. Adjust salt and pepper to taste. Add pasta. Cut sausage into 2-inch pieces. Add sausage and meatballs to pasta and toss to combine. Serve immediately.