Potatoes Roasted with Peppers and Herbs
Potatoes Roasted with Peppers and Herbs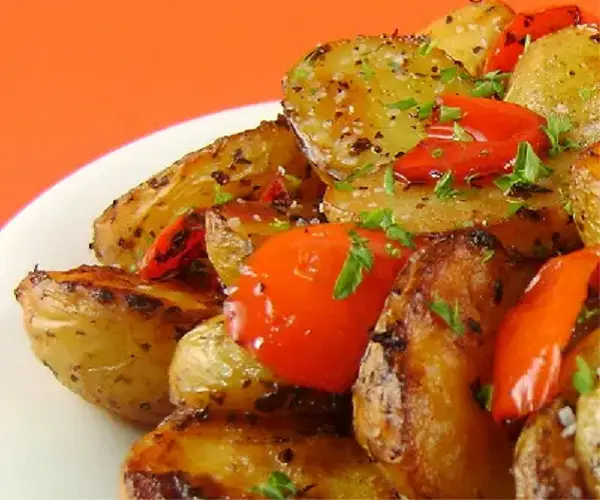 Ingredients:
Yield 6 to 8 servings
2-1/2 to 3 pounds small new potatoes, cut in half lengthwise

1 large red bell pepper, cut in 1/2-inch dice

1 large poblano pepper, cut in 1/2-inch dice

1 large jalapeno pepper, stemmed, seeded and cut in very thin crosswise slices

1 large sweet onion cut into 1/2-inch chunks

2 teaspoons dried basil

1 teaspoon dried thyme

1 teaspoon sweet smoked Spanish paprika (pimenton)

1 heaping teaspoon kosher salt

1/2 teaspoon coarsely cracked black pepper

1/4 cup extra virgin olive oil

1 tablespoon Worcestershire sauce

Juice of 1 large lemon
Directions:
1) Place a large baking sheet into oven. Preheat the oven to 425 degrees F.
2) Place potatoes, red pepper, poblano pepper, jalapeno pepper, sweet onion, basil, thyme, paprika, salt, pepper, olive oil, Worcestershire sauce and lemon juice in a large bowl and toss well to coat all ingredients. Quickly spray hot pan with nonstick spray. Dump potato mixture in a single layer onto pan. Return to oven.
3) Bake, turning mixture every 15 minutes, until potatoes are soft and brown, about 50 minutes.