PEPPERS WITH TOMATOES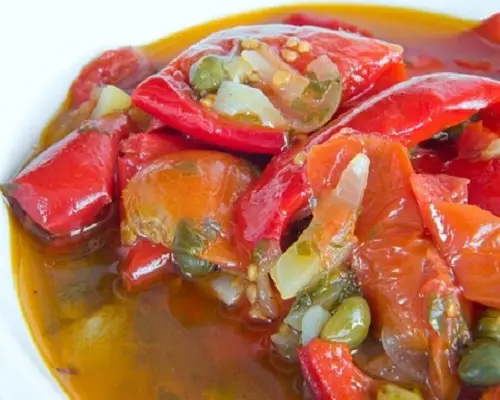 Ingredients
10 pulpy red and/or yellow sweet peppers

3 tablespoons of olive oil

3 cloves of minced garlic

28 oz. can of Italian peeled tomatoes

4 fillets of anchovies preserved in oil

3 tablespoons of capers, rinsed

2 tablespoons of chopped basil

Salt and pepper to taste

Sprigs of basil for garnish

A pinch of oregano
Directions
Wash the peppers and dry with a clean kitchen rag, cut them in half and remove the cores, seeds and any white membranes.

Cut peppers into large strips and set on the side.

Chop the peeled tomatoes coarsely or place in a food processor and blend for 10 seconds until chunky. Set on the side

In a large sauce pot, at a medium heat, place olive oil, the anchovies and with the help of a wooden spoon mash the anchovies as the garlic is sautéing.

Add the peppers, ½ teaspoon of salt and cook for 10 minutes, stirring occasionally.

Add the tomatoes, capers, basil and black pepper to taste; mix, stir and continue cooking for an additional 20 minutes.

Check for doneness and for salt, add it if needed.

Transfer to a serving dish; garnish with basil sprigs and a pinch of oregano.

Serve hot or at room temperature.