Roasted Caponata Salad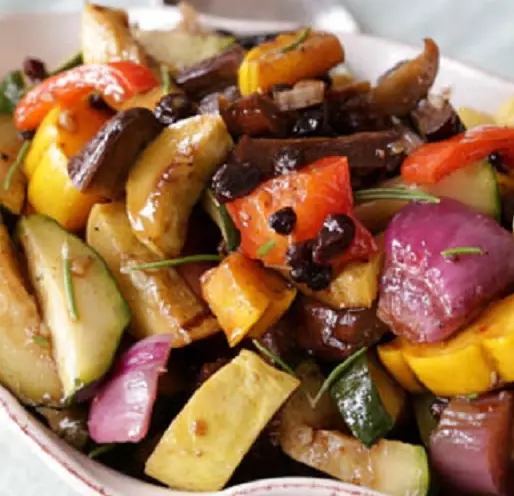 Ingredients
Serves: about 6
Prep: 15-20 minutes
Cook: about 20 minutes
DRESSING:
1/3 C. Olive Oil

1/8 C. Balsamic Vinegar

1/2 Tbsp. Sugar

Kosher Salt and Pepper to taste
VEGETABLES:
4 Baby Eggplants or a 1 Medium sized Eggplant – chopped in good size pieces (about an inch) skins left on

1 Clove Fresh Garlic – chopped

1 Purple (Red) Onion cut up

1 Fresh Red Pepper – cut up coarsely

About 2 C. baby tomatoes – like cherry tomatoes – a combination of yellow and red – cut in half

Several Fresh Lemon slices

1/8-1/4 tsp.Red Pepper Flakes – amount will depend on how much heat you like

Kosher Salt and Pepper to taste
ADD AFTER Roasting:
Several slices of Roasted Red Pepper – from the jar or make your own using the easy method described HERE.

1/2 C. Castelvetrano Olives (the bright green ones!) – cut in half

3 Tbsp. Capers, rinsed and drained

1/4 c. Fresh Italian Parsley – chopped coarsely

Field greens or Baby Romaine or Green leafy lettuce – whatever you like!
Instructions
Combine ingredients above designated for dressing. Mix well. Set aside.

Chop your vegetables and lemon slices very coarsely as suggested and place them in a large bowl. Add salt, pepper, red pepper flakes and mix.

Next add the dressing and toss.

Pour all ingredients mixed in the bowl onto a baking pan lined with foil. (it's just easier to clean that way.)

Roast at 400 degrees for about 20-25 minutes or until tender.

Remove from oven and mix in the roasted red peppers, olives, capers and parsley.

Cool to room temp and serve mixed with your favorite salad greens or as mentioned above or refrigerate and serve later.