Pisci d'Ovu – Frittata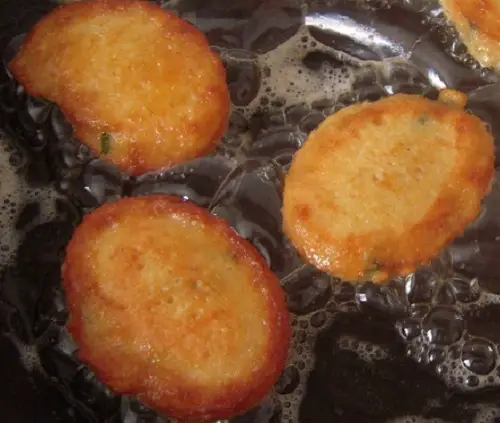 Eastern and Southern part of Sicily the frittata is called "u pisci d'ovu", literarily meaning a fish made of eggs; it is a substitute for the real fish when fish are too expensive or unavailable. The basic frittata is aromatized with garlic, basil and parsley and instead of turning it over, it is folded in half with the help of a spatula, cooked covered until the eggs are well done, roughly shaped in the form of fish and served plain or covered with a tomato marinara sauce.
Ingredients
8 eggs
½ cup grated Pecorino cheese (8 tablespoons)
¼ cup of bread crumbs (4 tablespoons)
salt and pepper to taste
1 tablespoon finely cut parsley
½ tablespoon finely cut basil
2 minced cloves of garlic
4 to 6 tablespoons of olive oil divided
Mint twigs for garnish
Optional Marinara Sauce (See recipe)
Instructions
1. Ahead of time prepare the marinara, if you will be using it.

2. In a large bowl, lightly beat the eggs using a fork, add and fold in the cheese, breadcrumbs, salt, and pepper. Add the garlic, the herbs and combine it well.

3. At a high heat, in a non stick frying skillet, heat 2 tablespoons of olive oil and swirl the oil in the pan. When the oil is hot, remove from the heat, and slowly pour about ¼ of the mixture into it.

4. Cook the frittata at a low heat for about 7 minutes, shaking and tilting the skillet often to prevent it to stick to the bottom, and occasionally rotate a spatula around the edge of the skillet to prevent that the frittata sticks to the sides. When the bottom of the frittata is almost cooked, fold it in half with the help of a spatula, roughly shaped in the form of fish. Continue cooking covered until the frittata is light golden brown and turn as needed for even browning. Remove with slotted spoon, drain on paper towels and set in a warm place until ready to serve.

5. Repeat until the four "pisci d'ovu" are made.

6. Transfer into a serving plate, or serve in individual dishes covered with the optional marinara sauce and garnished with mint twigs.