Piselli alla Fiorentina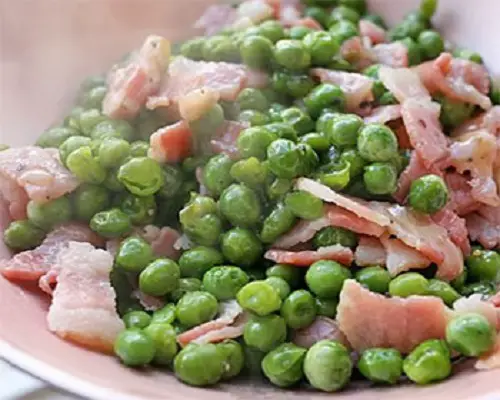 Ingredients:
3-3 ½ C peas (fresh or frozen)

3 Tbs Extra Virgin Olive Oil

2 cloves garlic

½ C rigatino (or pancetta)

1 Tbs chopped parsley

Pinch of salt

Pinch of pepper

Water (about ½ C)

1 tsp sugar
Directions
Heat oil and add garlic and rigatino.

Add peas once garlic starts to turn golden (don' let it burn) and rigatino (or pancetta) starts to crisp.

Add parsley, salt, and pepper. Stir.

Add enough water to cover peas.

Cover with a lid and simmer for approx. 10-15 min.

Once water has evaporated, turn heat off.

Add sugar, stir, and serve!
Recipe and video courtesy of Stacee in Tuscany