Pizzette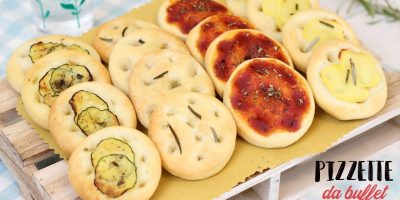 Pizzette are served all over Italy and are offered with many different toppings.  They are commonly eaten as a snack or during aperitivo in Italy. Here's a video recipe so you can make them at home too!
INGREDIENTS
500 g of flour
10 g of brewer's yeast
250 ml of milk
5 g of salt
60 ml of sunflower seed oil
FOR THE TOPPING:
tomato sauce
zucchini in slices
sliced potatoes
green olives
rosamarino
of oregano
Salt to taste.
olive oil q.b.